Mental Wellness Promotion Day 2018
"Embrace Yourself"
1 Feb 2018

Date: 1 February, 2018
Time: 12:00 n.n. – 5:00 p.m.
Venue: Pommerenke Student Centre Plaza

Mental Wellness Promotion Day is a signature mental health promotion event of the year organized by Wellness and Counselling Centre of the Office of Student Affairs.

The main theme of the Mental Wellness Promotion Day is "Embrace Yourself", with dandelion, a versatile and resilient plant, as our mascot.

Also celebrated on the same occasion is the Handover Ceremony for 2017-18 uBuddies. The uBuddies are student peer counsellors who are committed to promote mutual support and care in student communities.

We have invited students to have musical and magic performance on stage, and hold "Embrace Yourself" booths and candy corners at the Plaza. Mental Health Talk on Facts about Counselling will be conducted by our Student Counsellor from 2:30 to 3:30p.m. Interested students please register for the workshop at
https://webapp.itsc.cuhk.edu.hk/ras/restricted/eventlist?id=67 .

We will have a series of pre-event promotion around CUHK campus from 19 January to 31 January. Watch out for our pre-event promotion and get our souvenirs!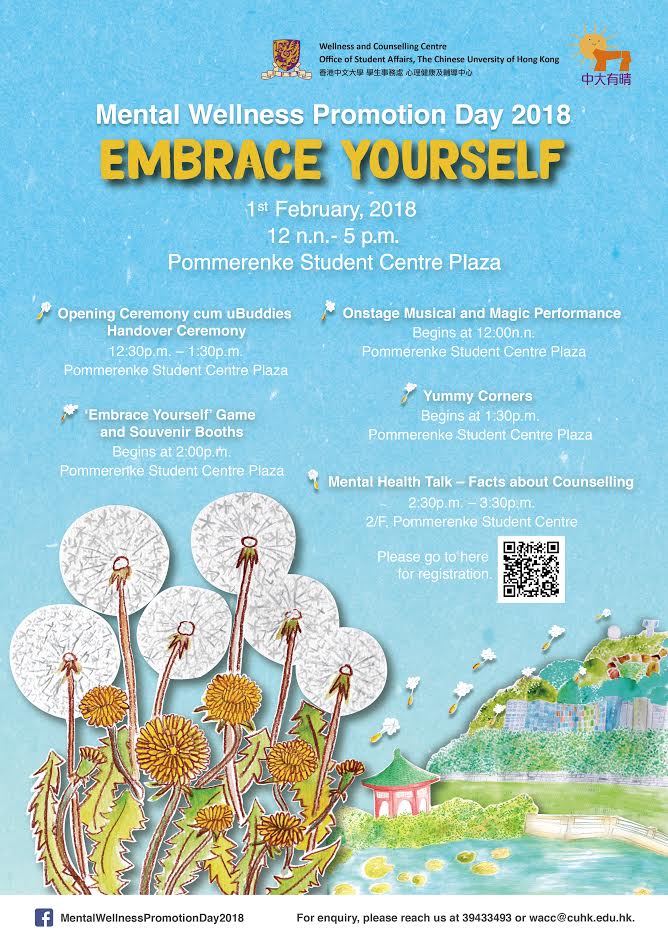 ------------------------------------------------------------------
Highlighted activities:
Mental Wellness Promotion Day 2018 – Mental Health Talk
https://webapp.itsc.cuhk.edu.hk/ras/restricted/eventlist?id=67

Have you considered counselling service before but was hesitated because you didn't know how counselling might help?
Maybe you have tried to get a friend to seek help from counselling in the past but wished you could encourage him/her to go by offering more information…
Topic: Facts about Counselling
Aim: Introduce the counselling service of WACC and to facilitate students' help seeking behavior via
- Sharing information about the Nature and Process of counselling.
- Addressing some common Myths about counselling.
- Discussing tips on supporting friends at risk

*Language: Cantonese (English - upon request)
*Format: Interactive Q&A format

Date: February 1 2018
Time: 2:30pm – 3:30pm
Location: Wellness and Counselling Centre, 2/F, Pommerenke Student Centre, CUHK.
Participants: Students of CUHK

Quota: 25
Enquiries: Ms Clara Chan, Phone: 39433493, Email: This email address is being protected from spambots. You need JavaScript enabled to view it.