Latest News

Expressive Arts Workshop: Understanding Yourself
Have you ever resonated with a song that you heard? Or watching a movie or drama that resembles your self-portrayal? Or come across any scenic views or images that make you have special feelings that you could never forget?
Assimilate your creation into arts, it can become your mirror to help you understand yourself.
The workshop aims to enhance self-understanding of participants, including their strengths, insights and passions via the creative process and elements of visual arts and drama. Students can explore themselves through this self-exploration process while enjoy the fun through creation of an art piece.
Date: 11/11/2019 (Monday)
Time: 10:00a.m.-12:30p.m.
Venue: BFC Room LG13A-LG13B
Registration: https://cloud.itsc.cuhk.edu.hk/webform/view.php?id=8403607
Targets: CUHK Students (Priority will be given to Flourishing First Year@CUHK members [register to be member here])
Fee: Free
Quota: 24
Language: Cantonese
Remark: Comfortable wear, mini-skirts not preferable
For enquiries, please contact our Wellness and Counselling Centre staff at 3943 7208 or 3943 3493.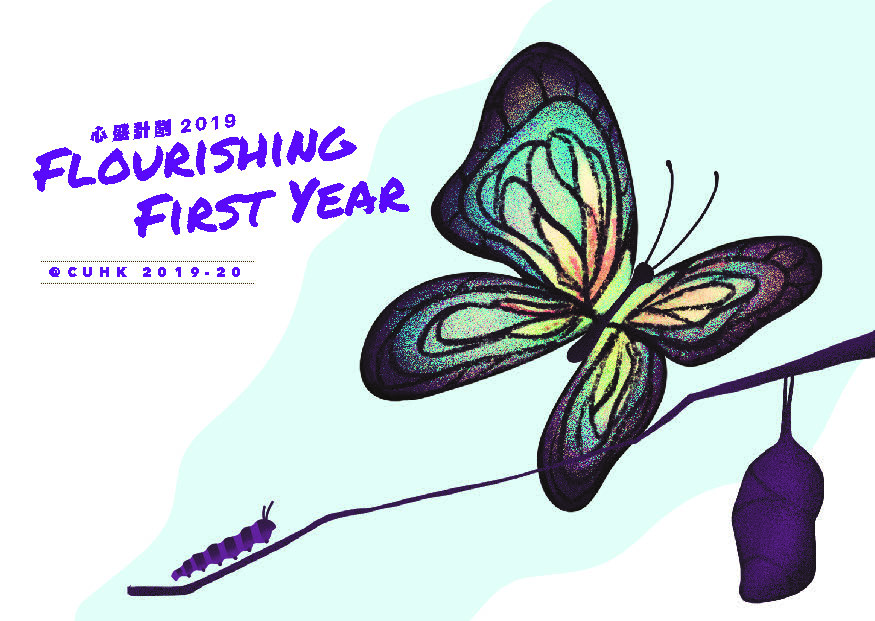 ---
---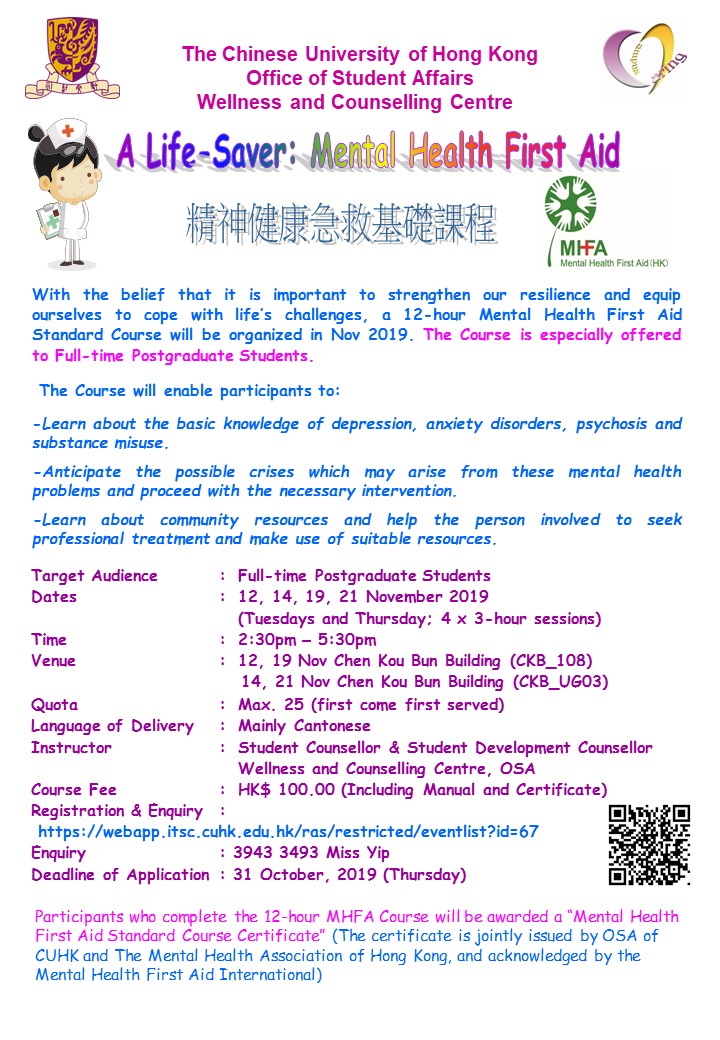 ---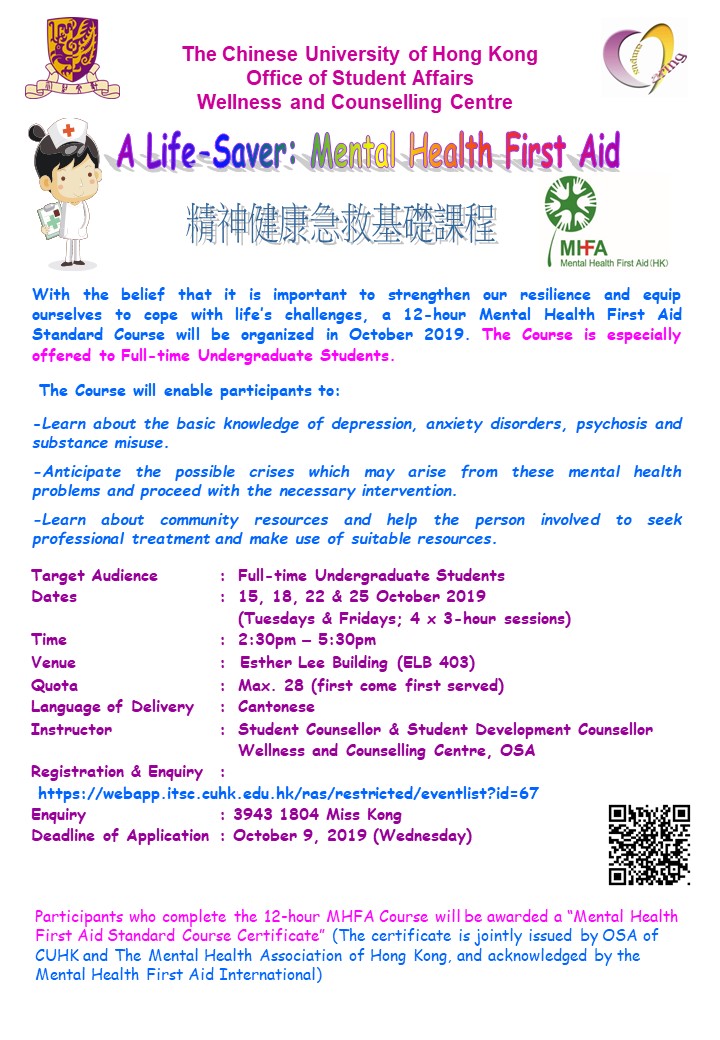 ---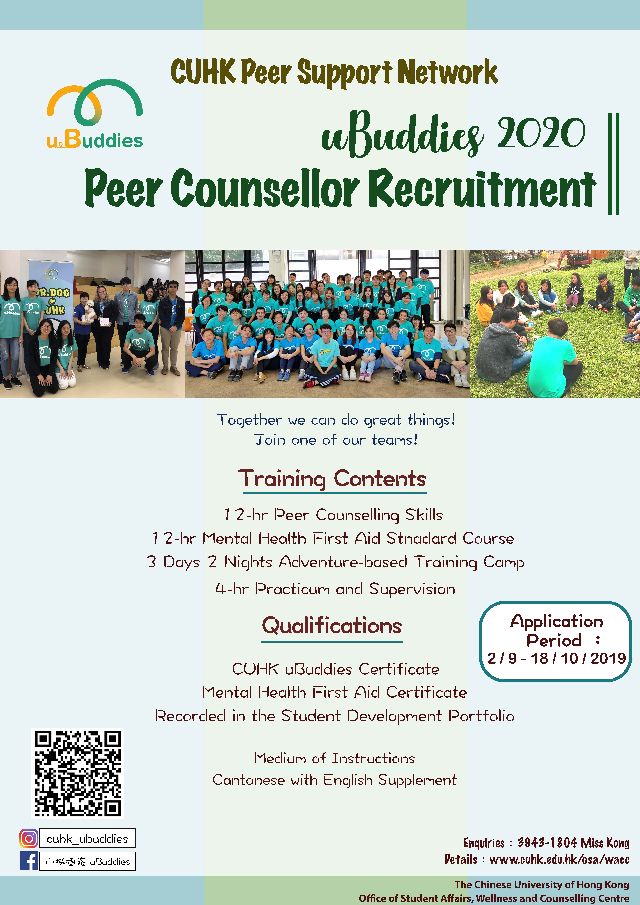 ---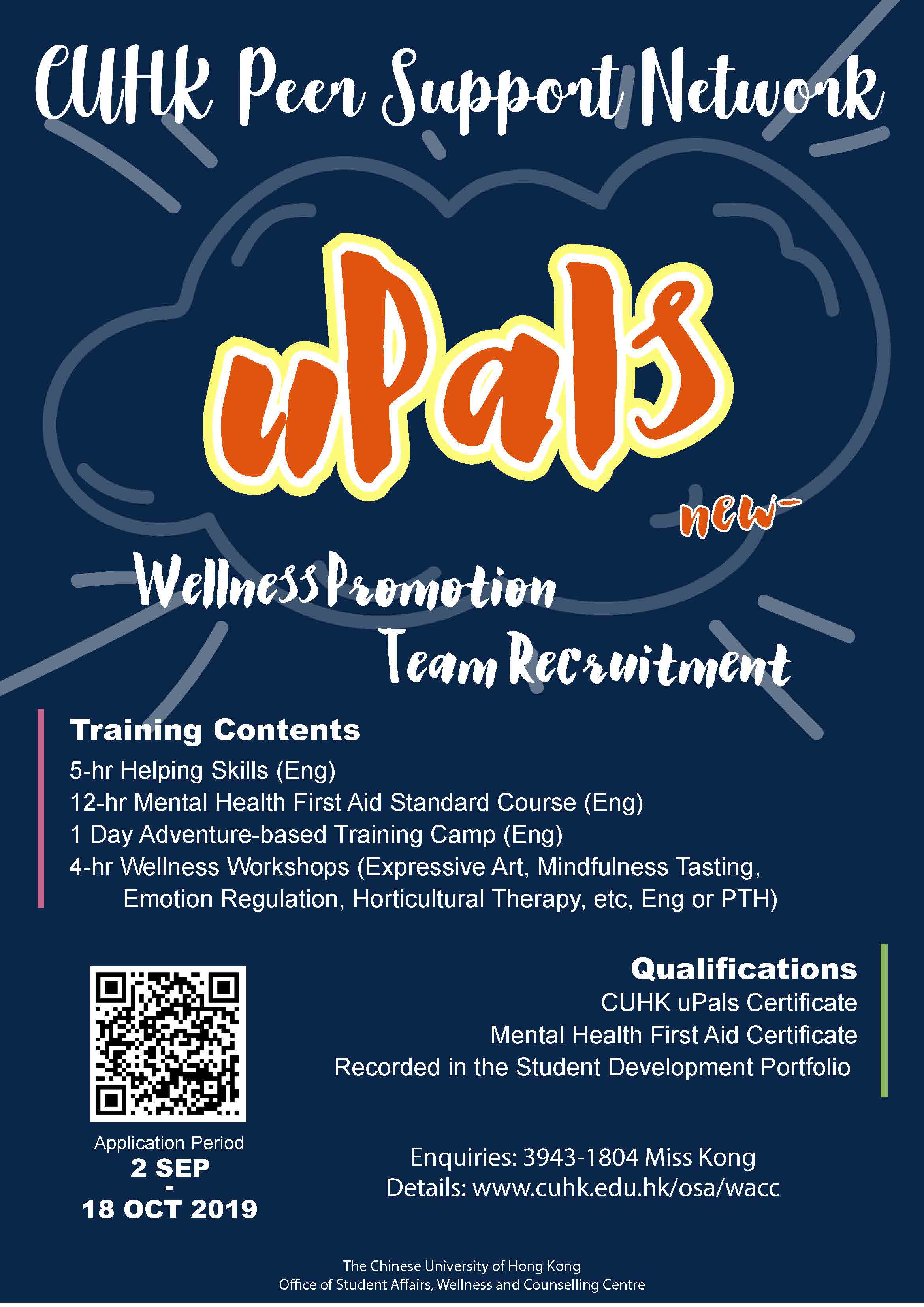 ---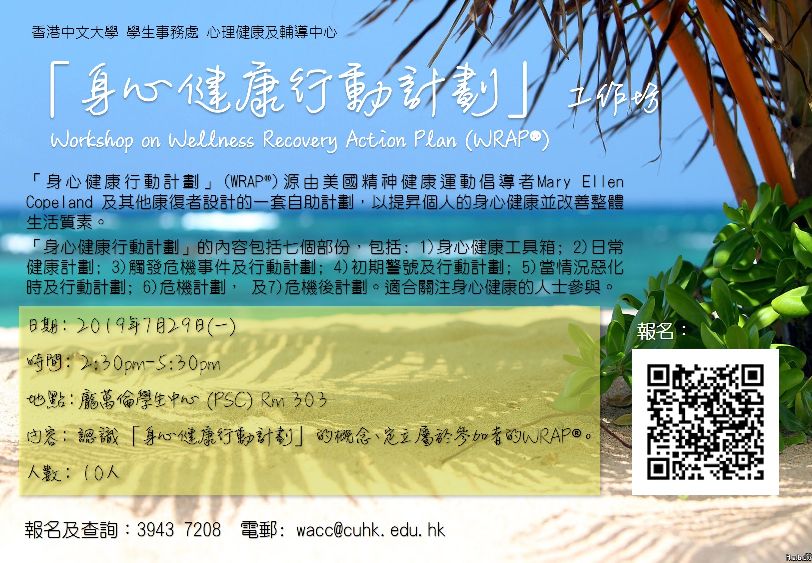 ---
24-hour emotional support hotline for CUHK students: 5400 2055
Hong Kong Red Cross Psychological Support Hotline: 3628 1180 (Chinese and English speaking)
 12 June (Wed): 6pm to 10pm; 13 June (Thu) and 14 June (Fri): 10am to 10pm
 Tel.: 93773666 / 2339 3759
SMS: 91 012 012 / FB Messenger:
m.me/hkopenup
/ WeChat: hkopenup
---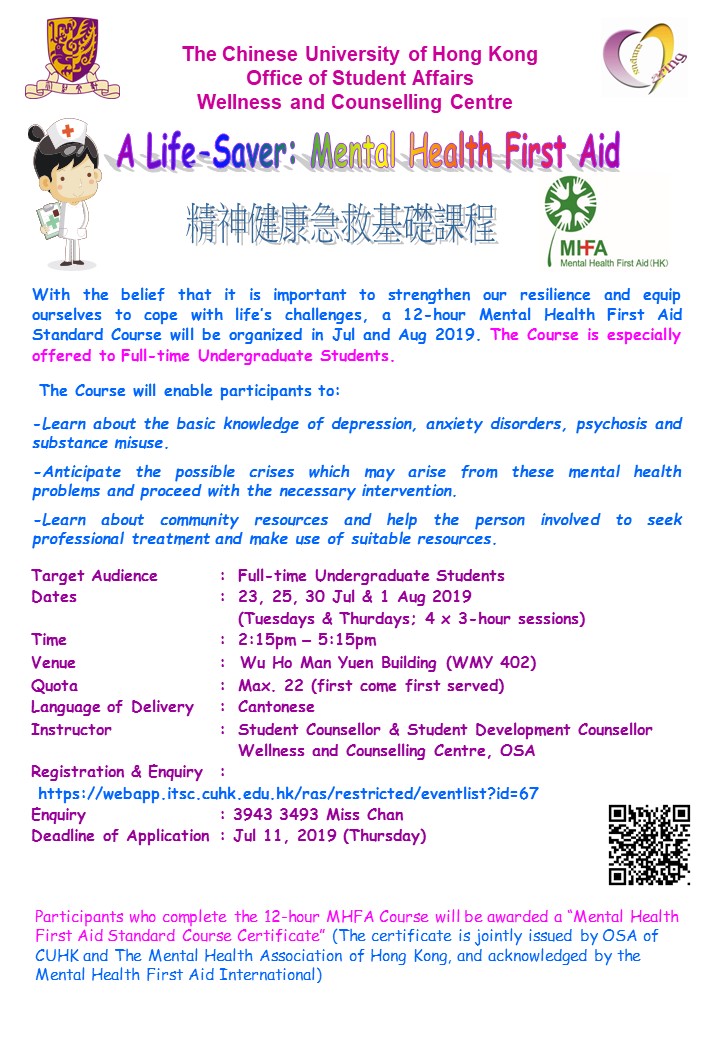 ---
---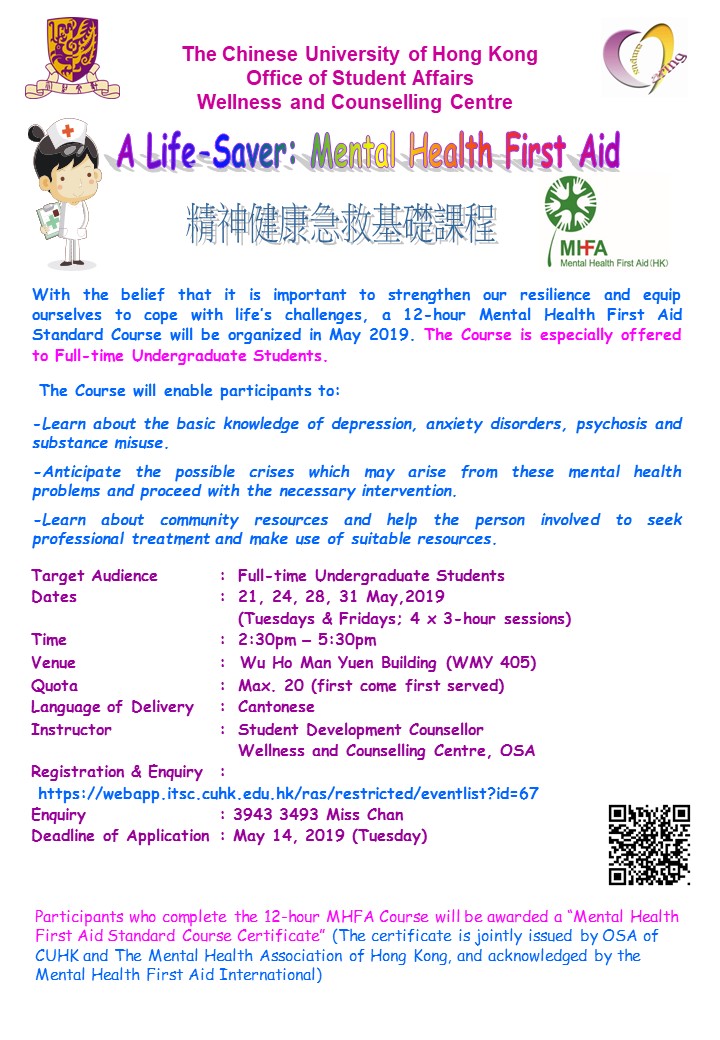 ---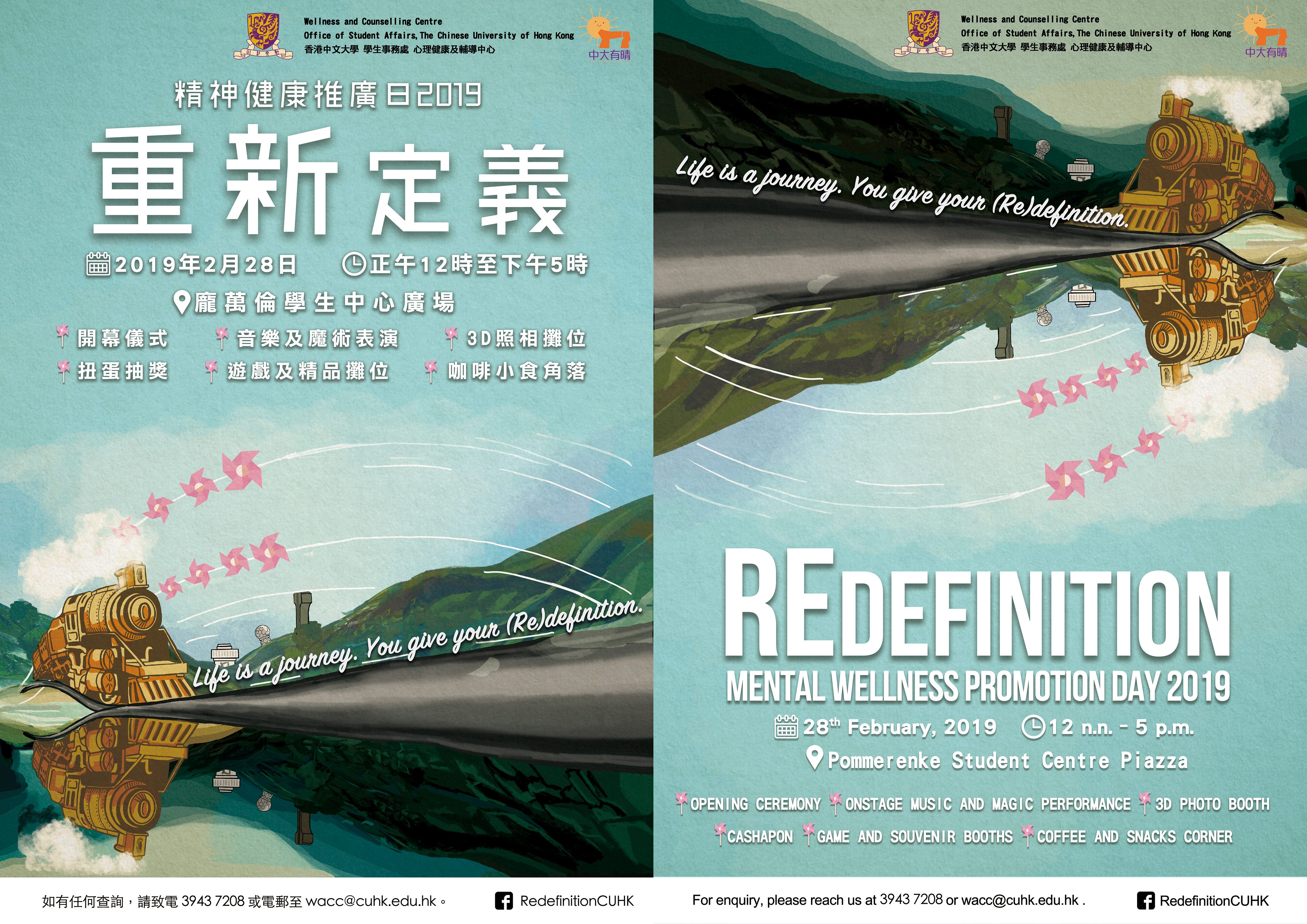 ---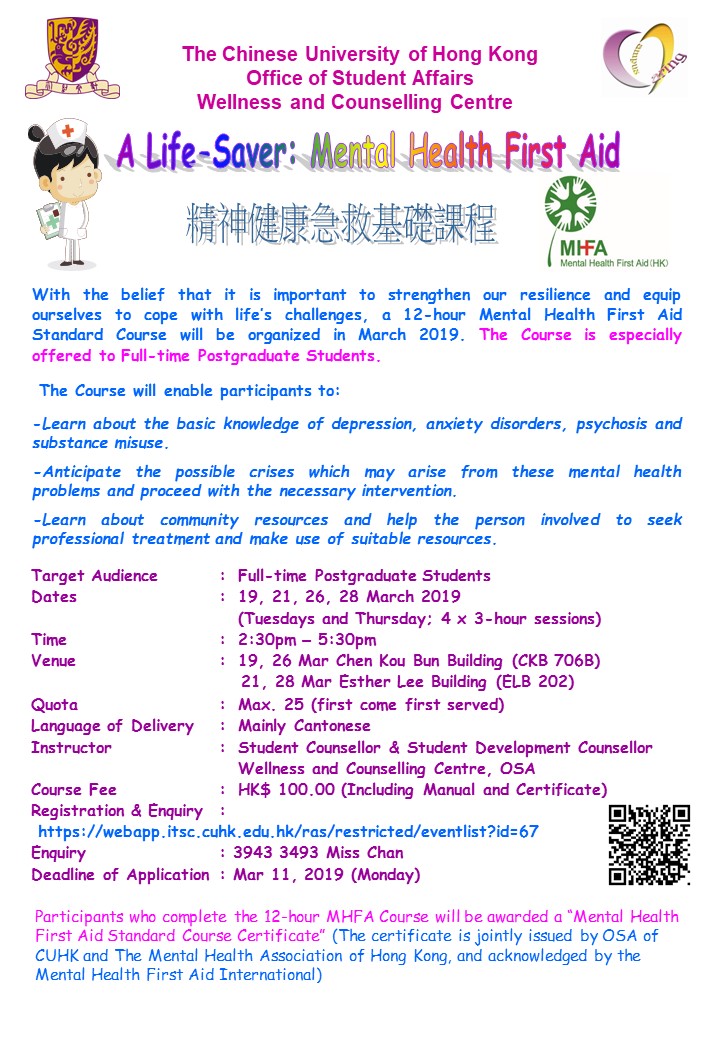 ---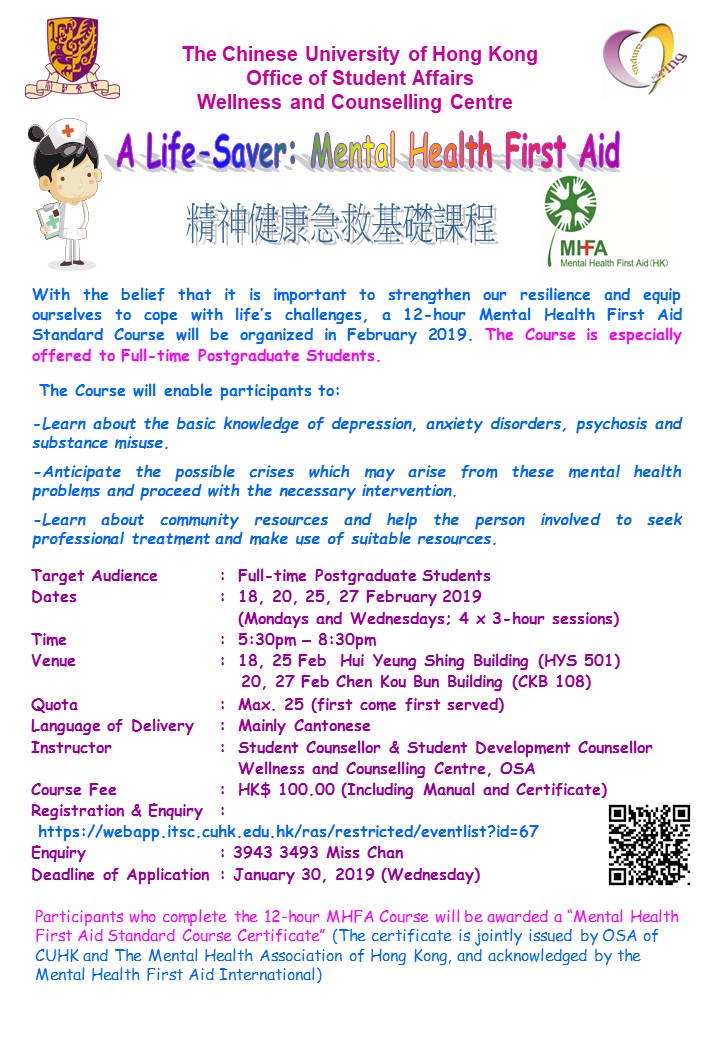 ---
Online Registration: https://www.bmsp.hk/2019-jan-expo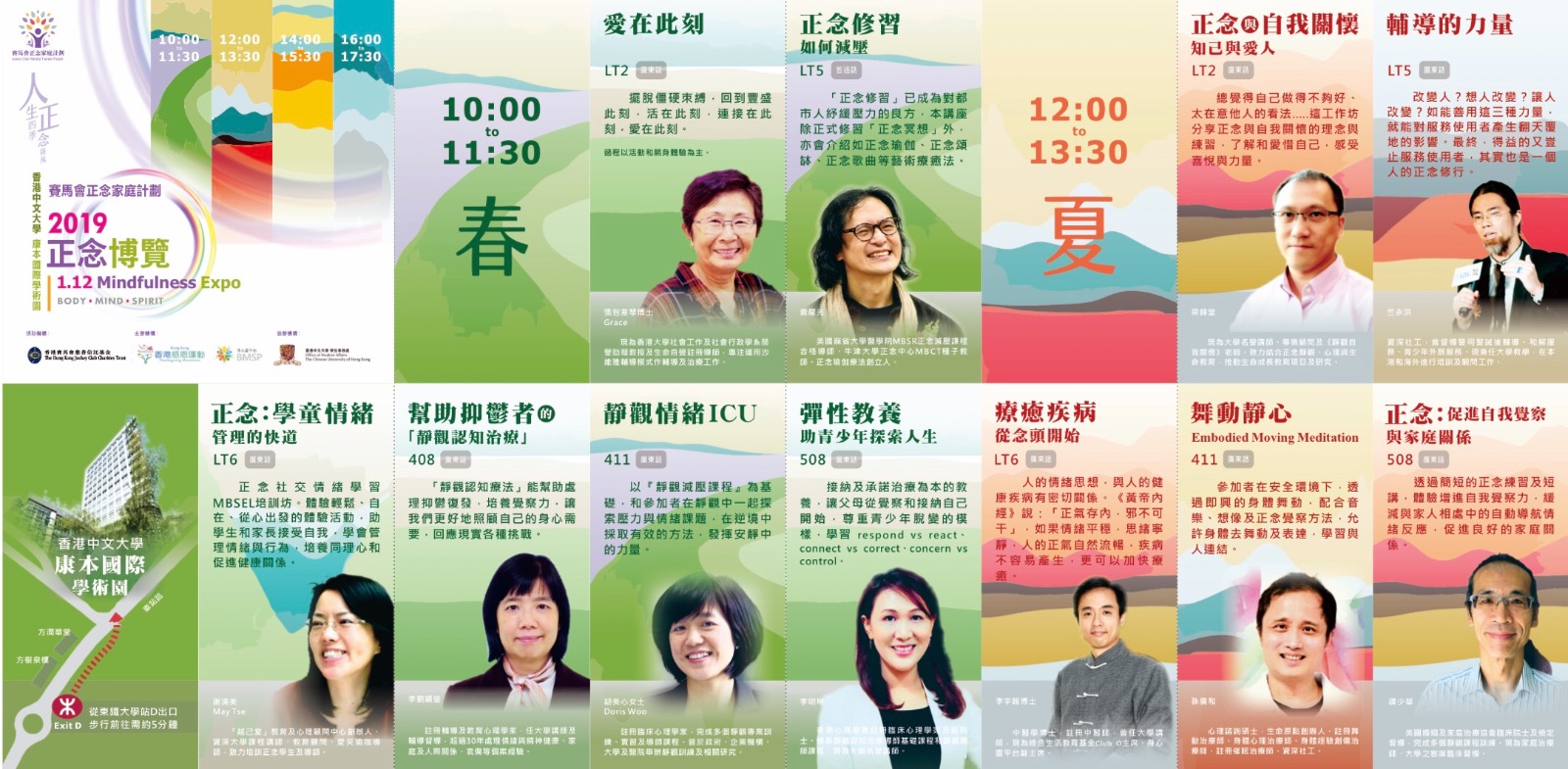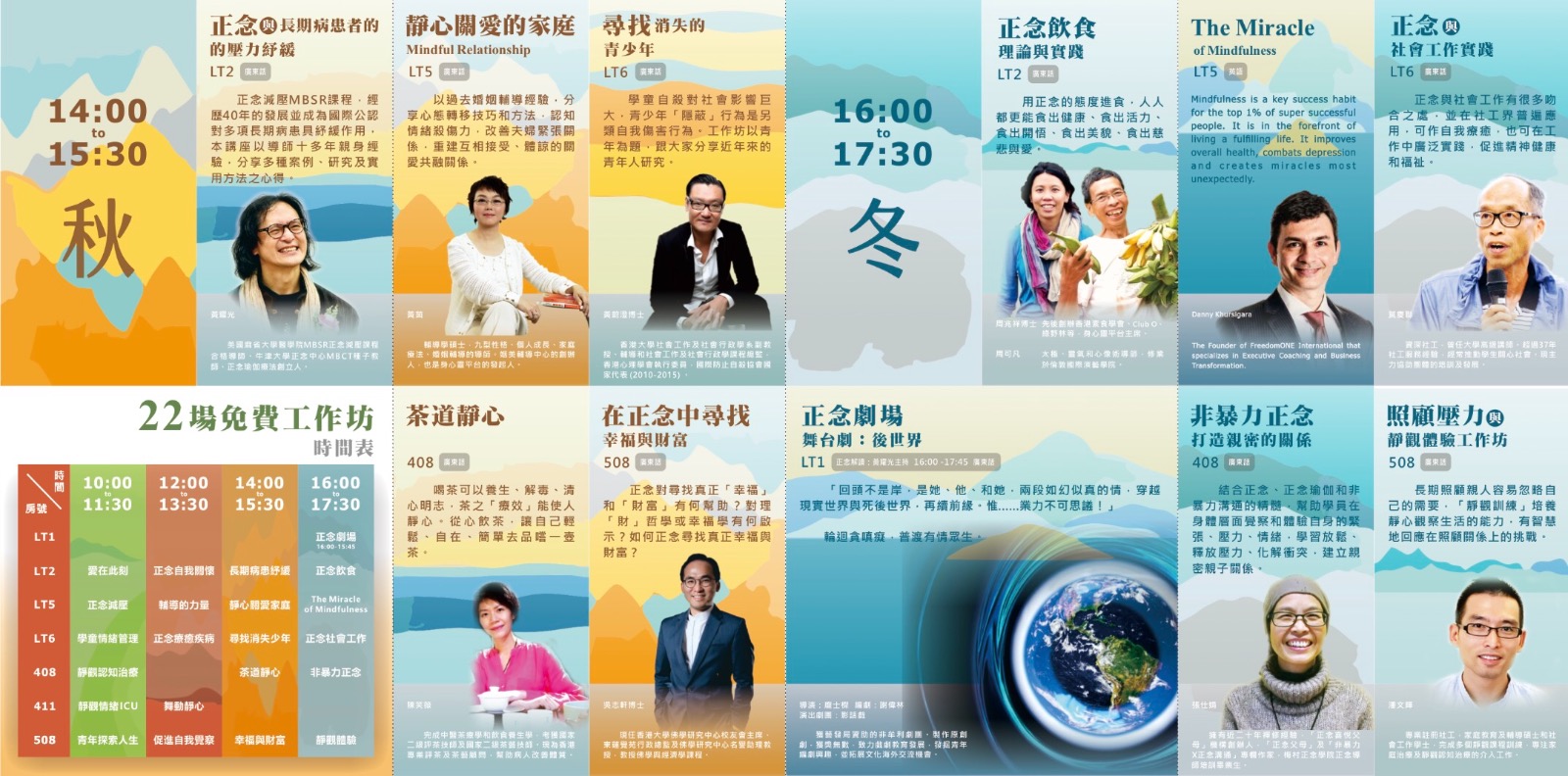 ---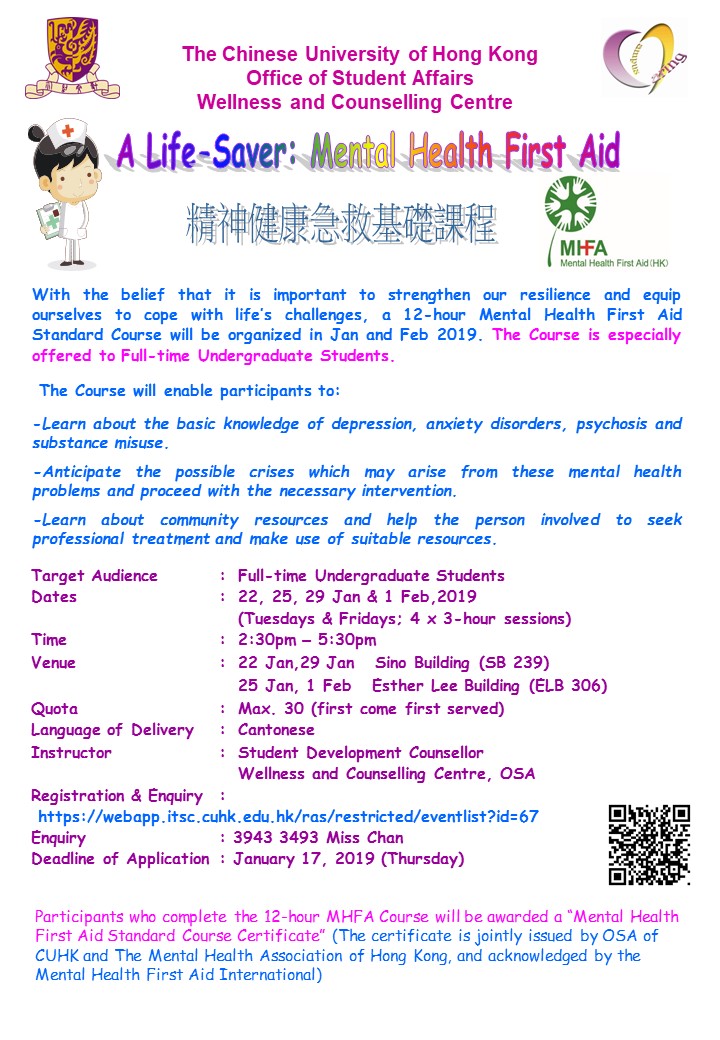 ---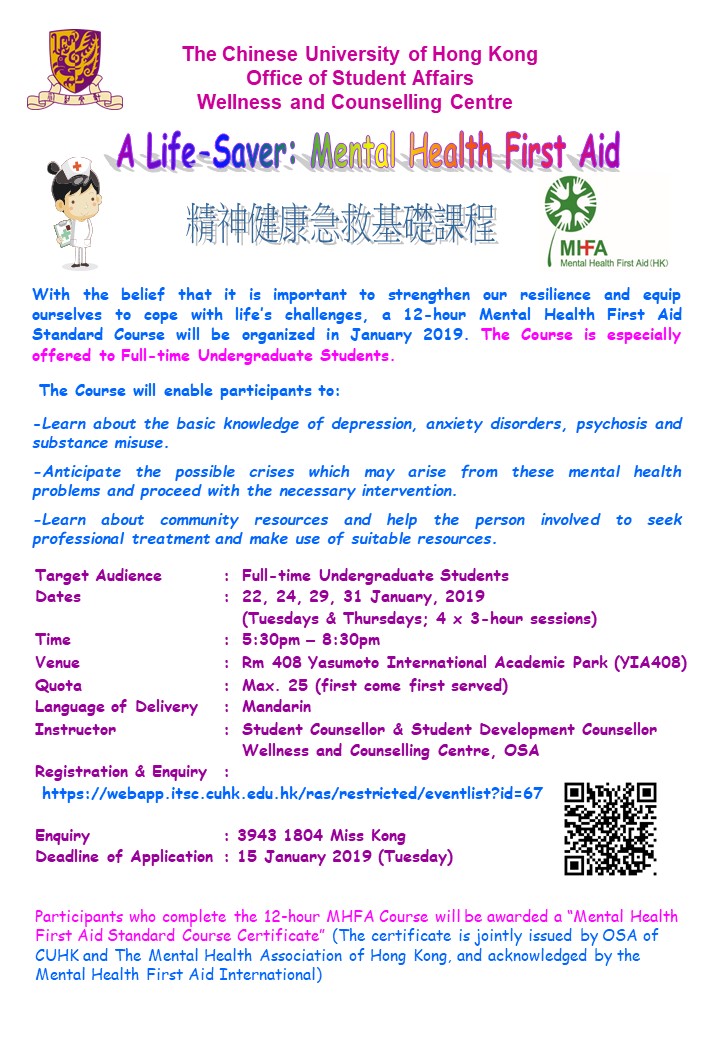 ---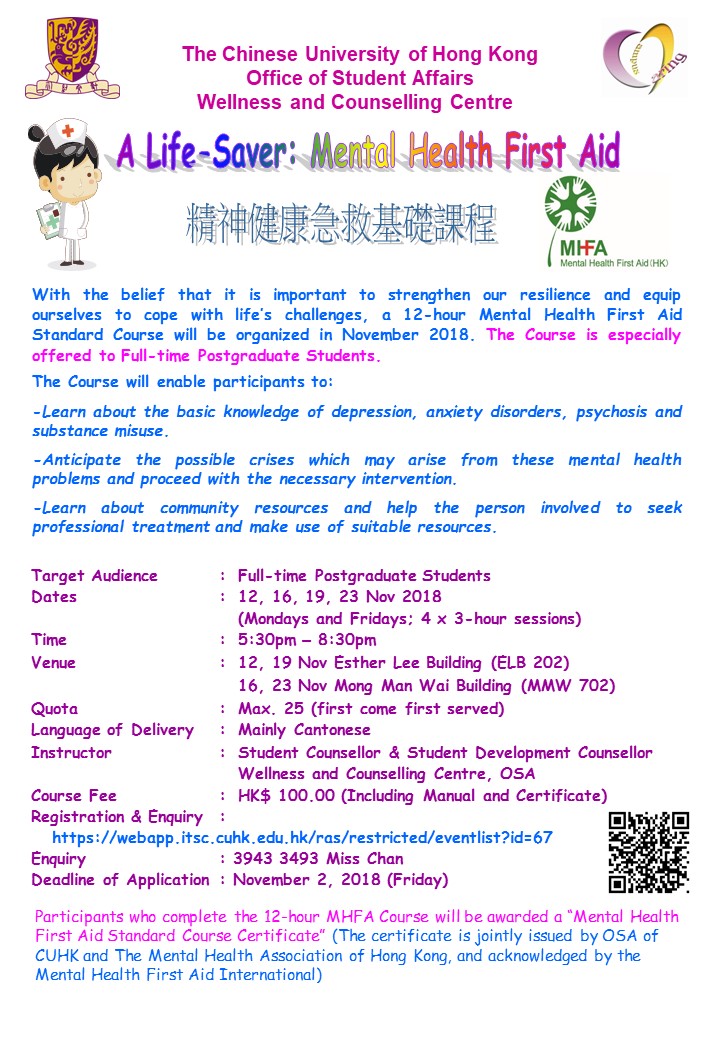 ---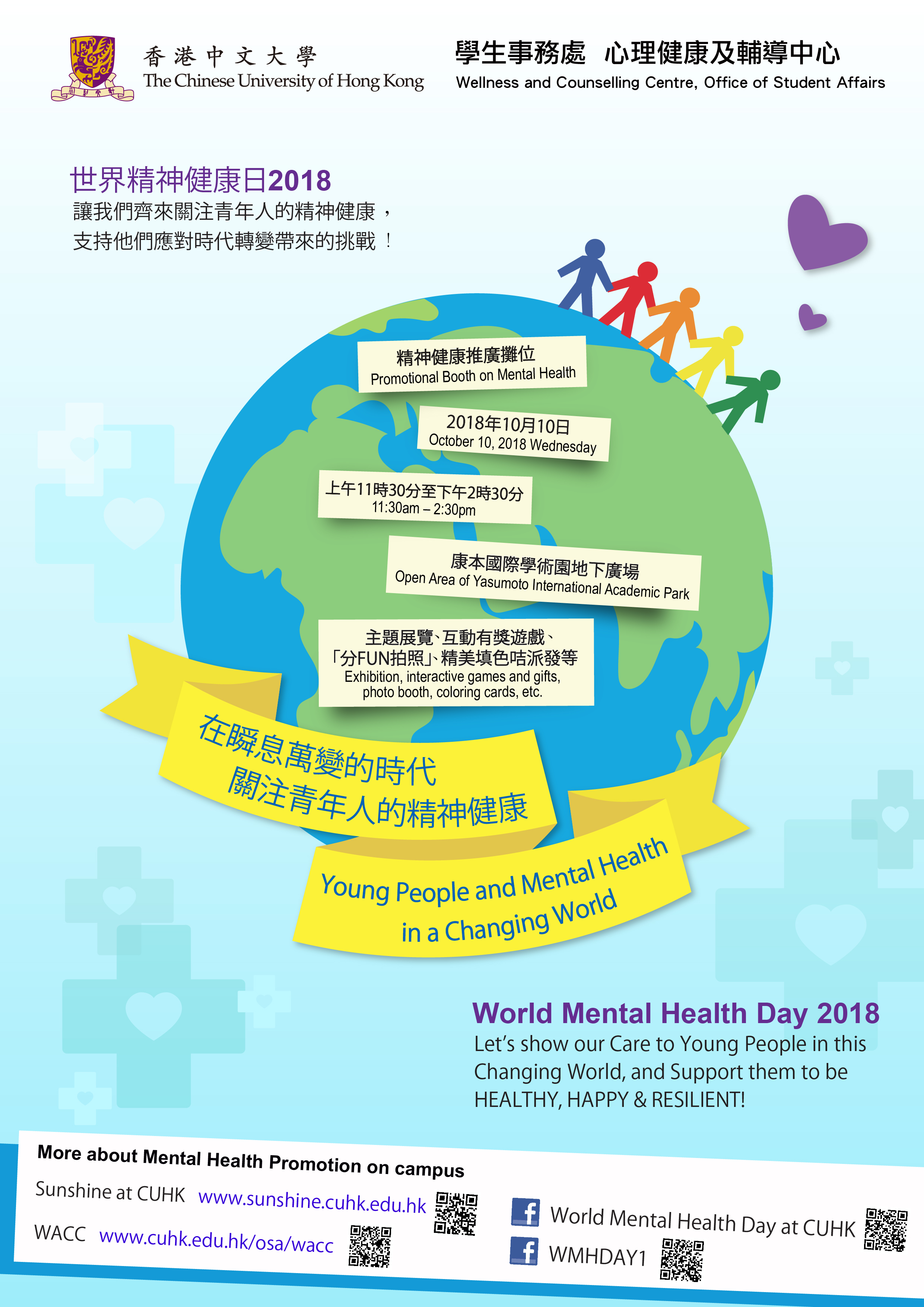 ---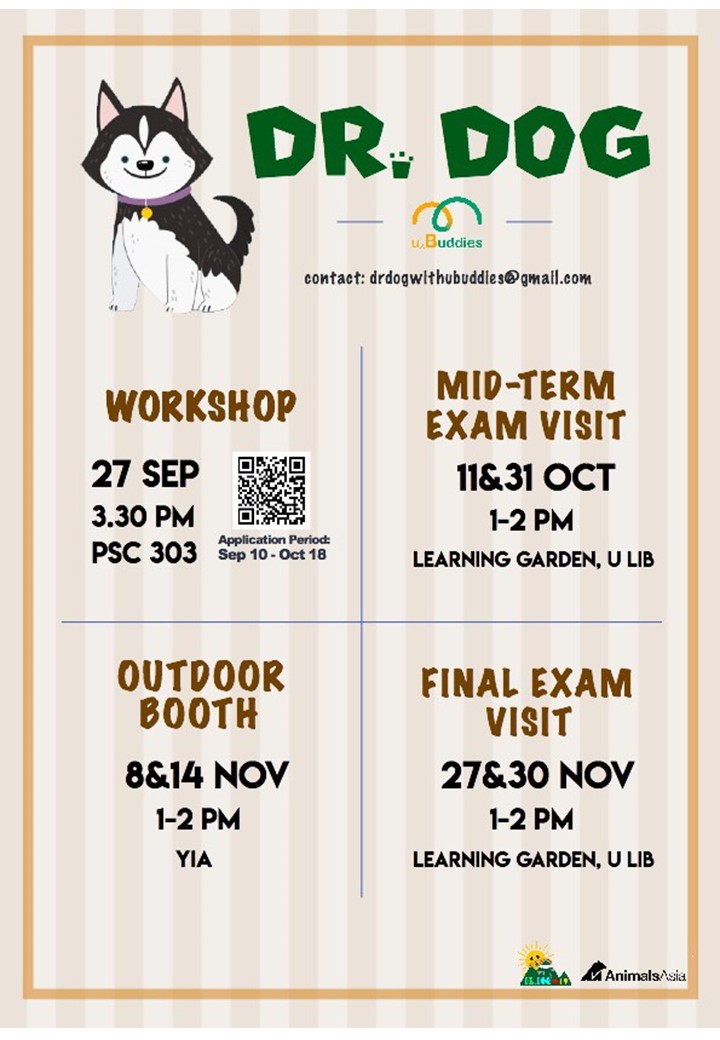 ---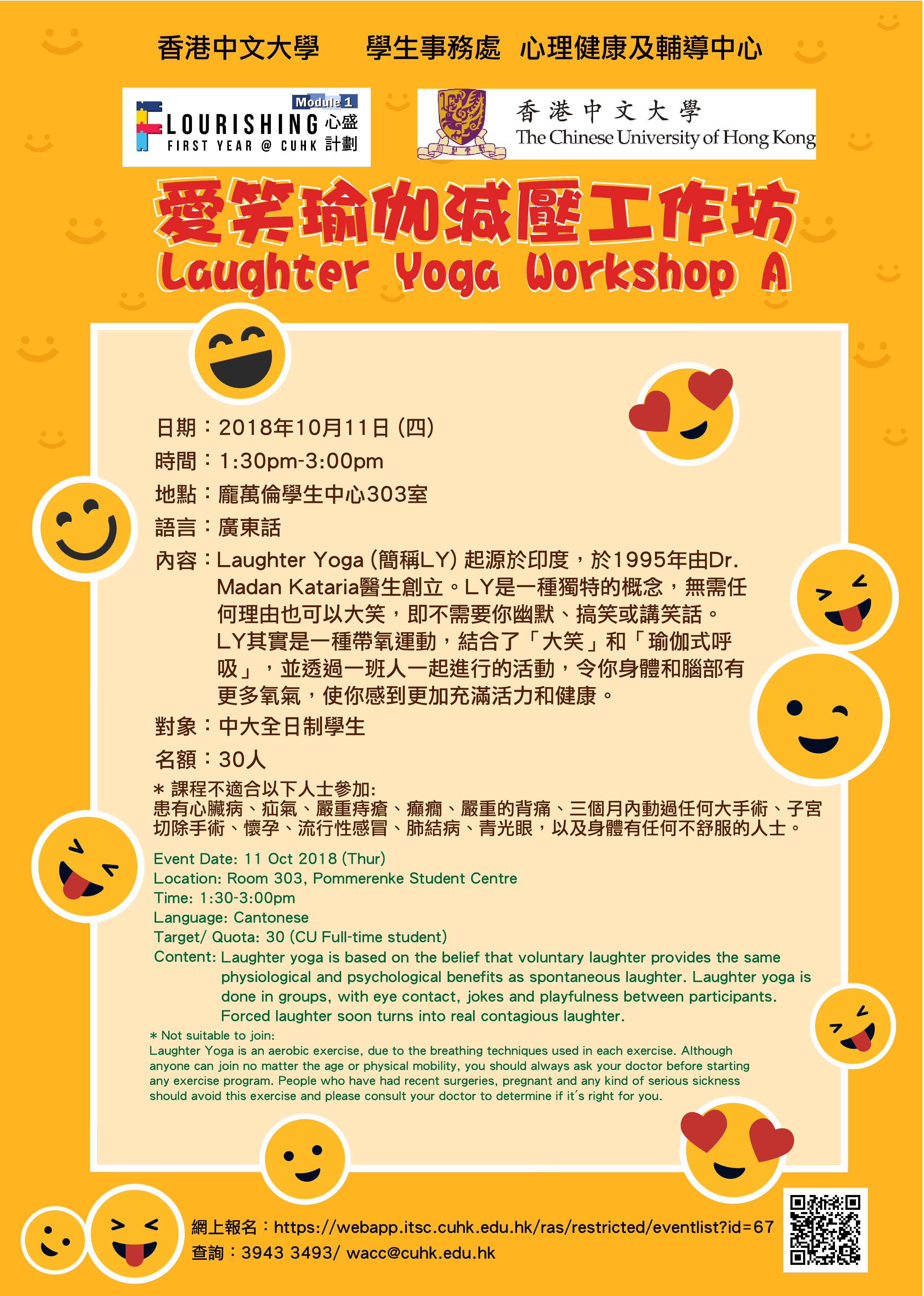 ---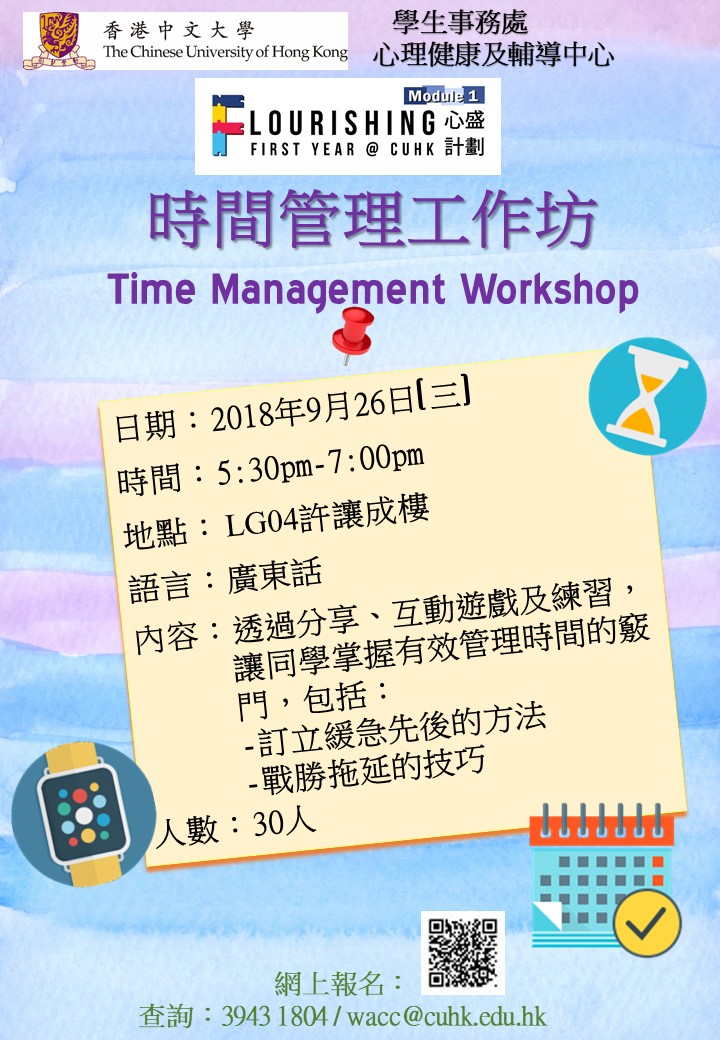 ---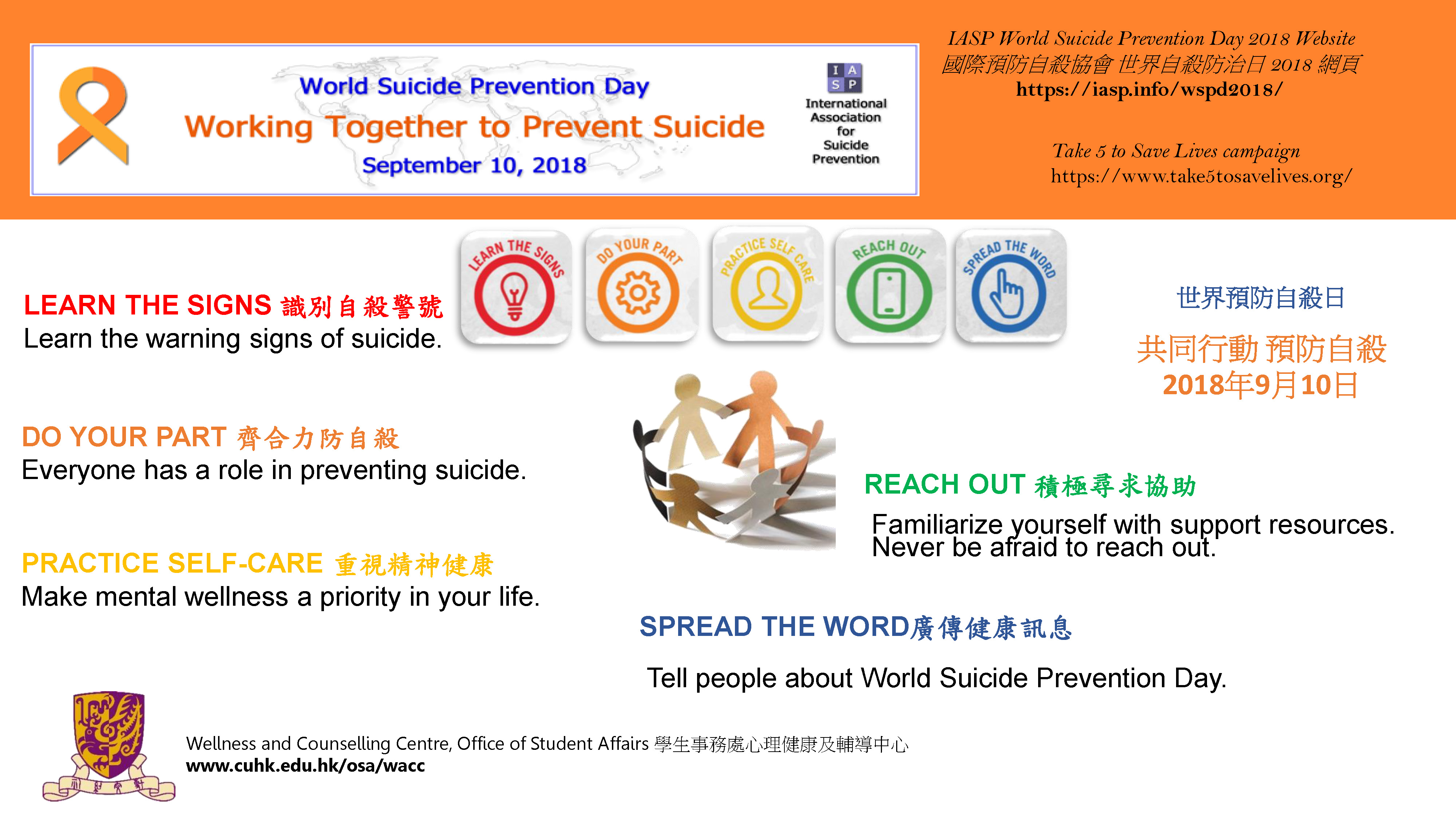 ---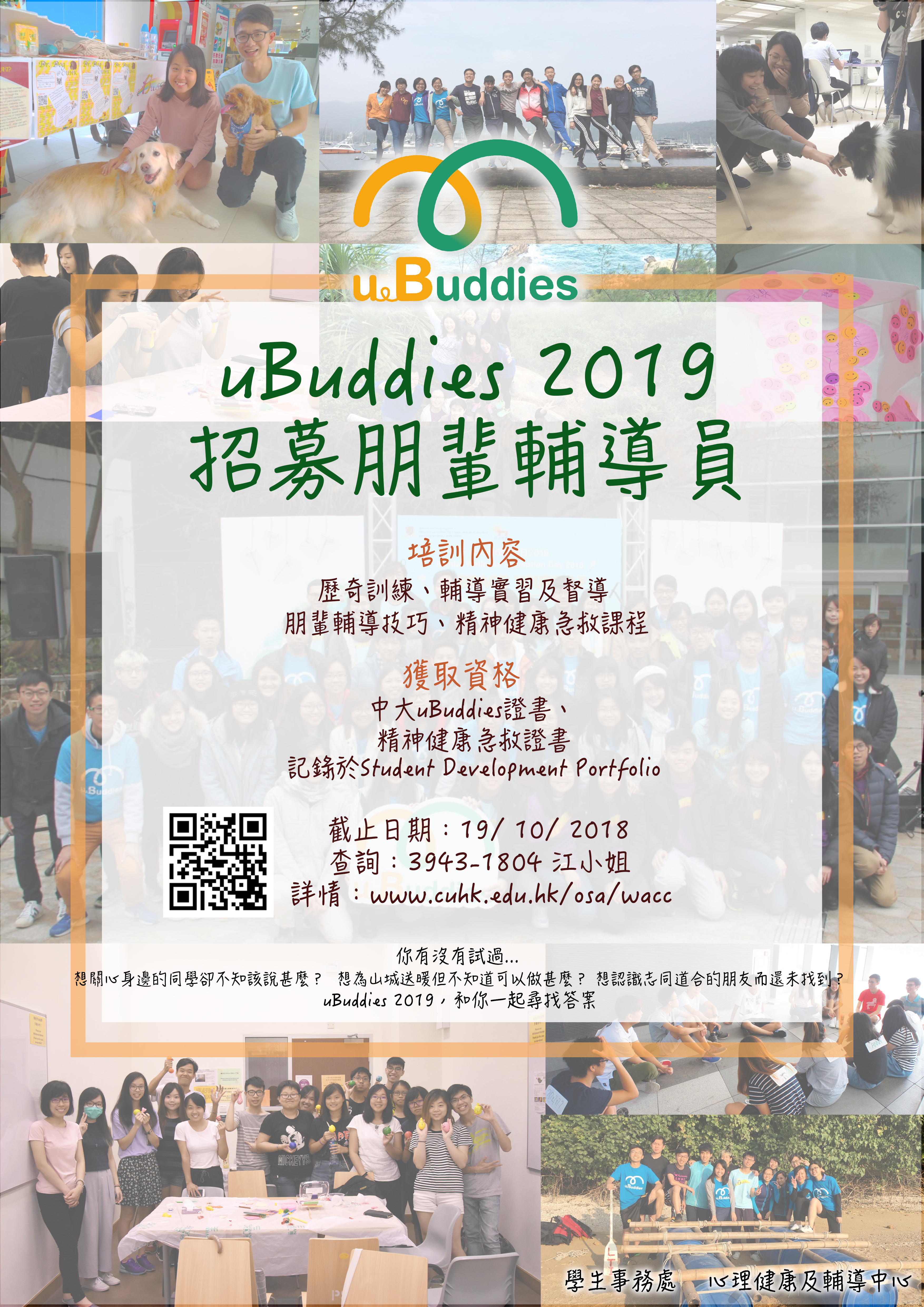 ---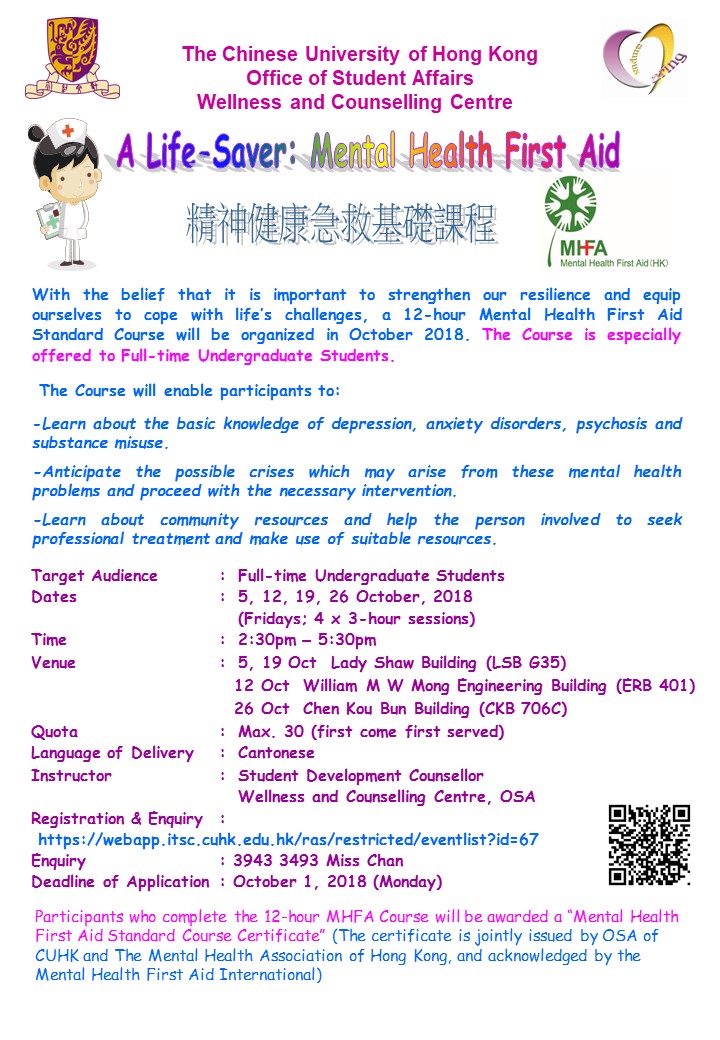 ---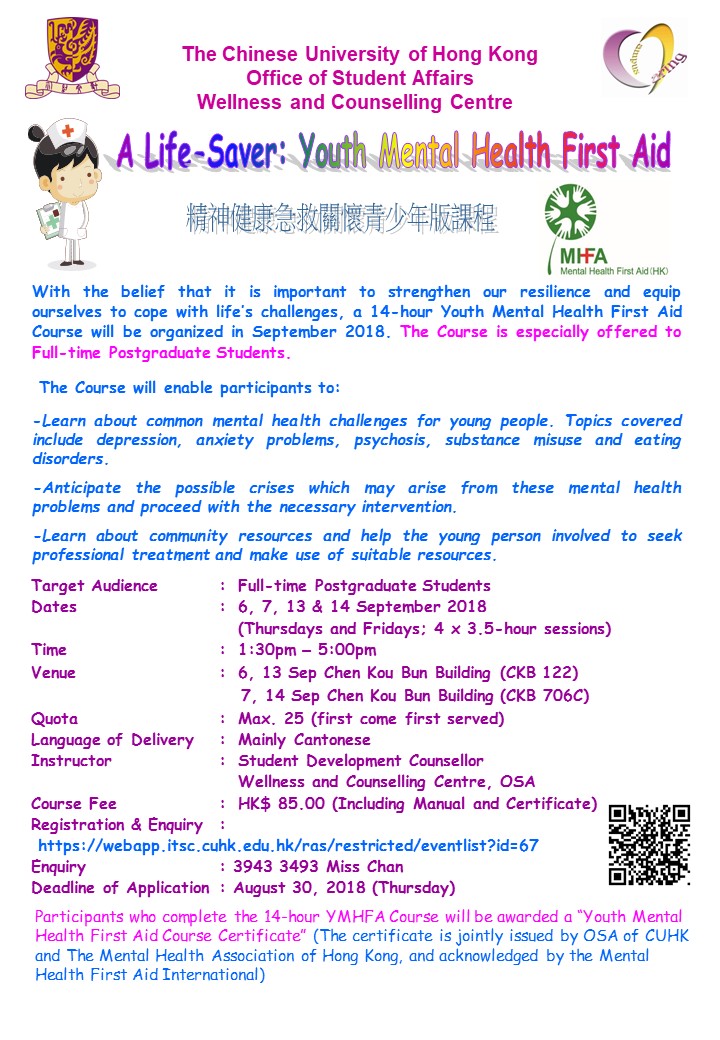 ---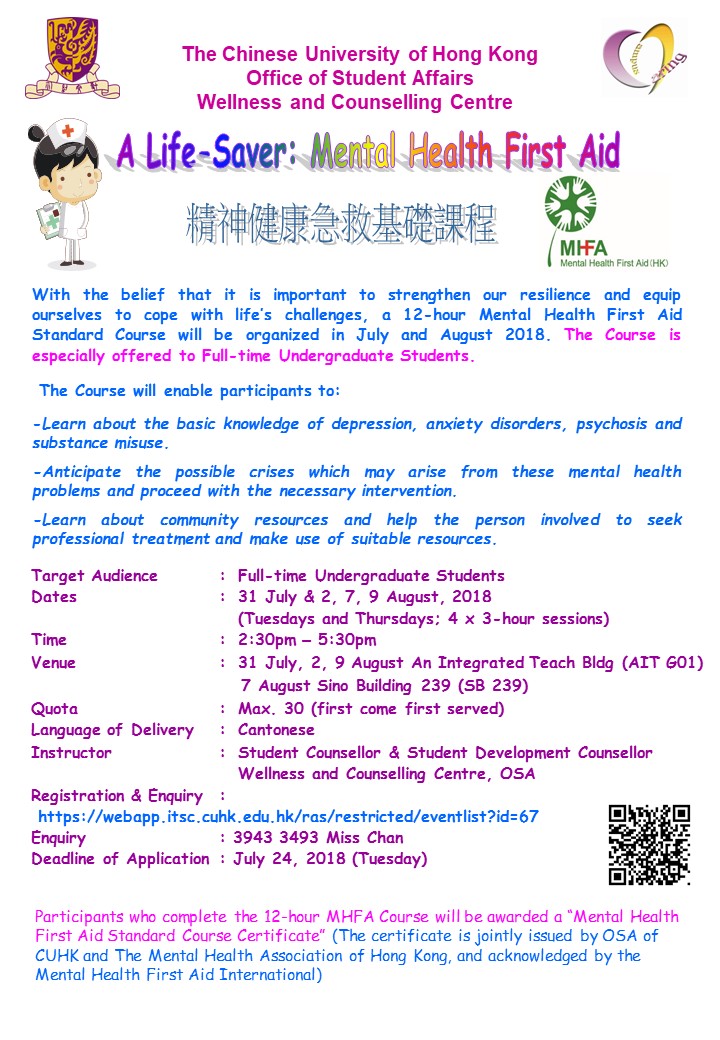 ---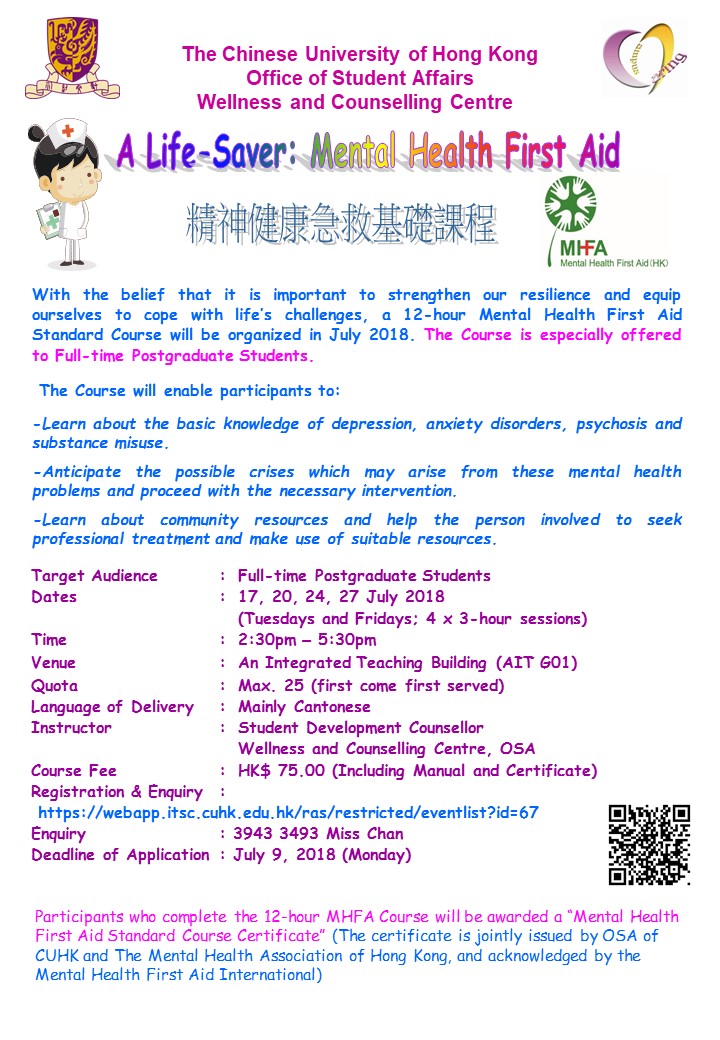 ---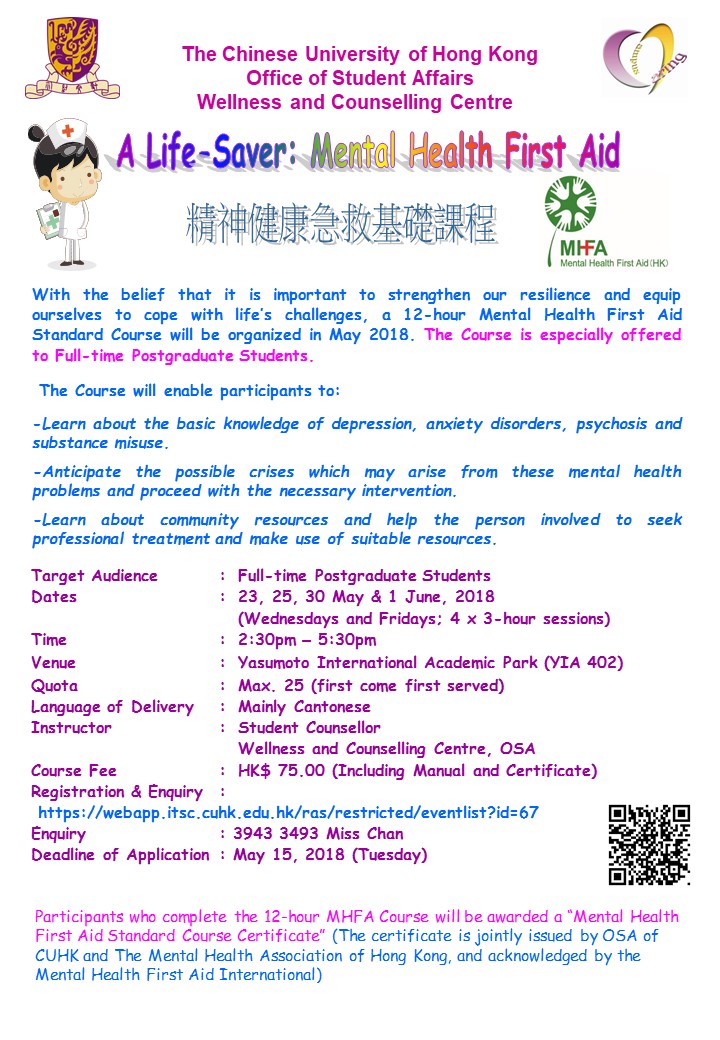 ---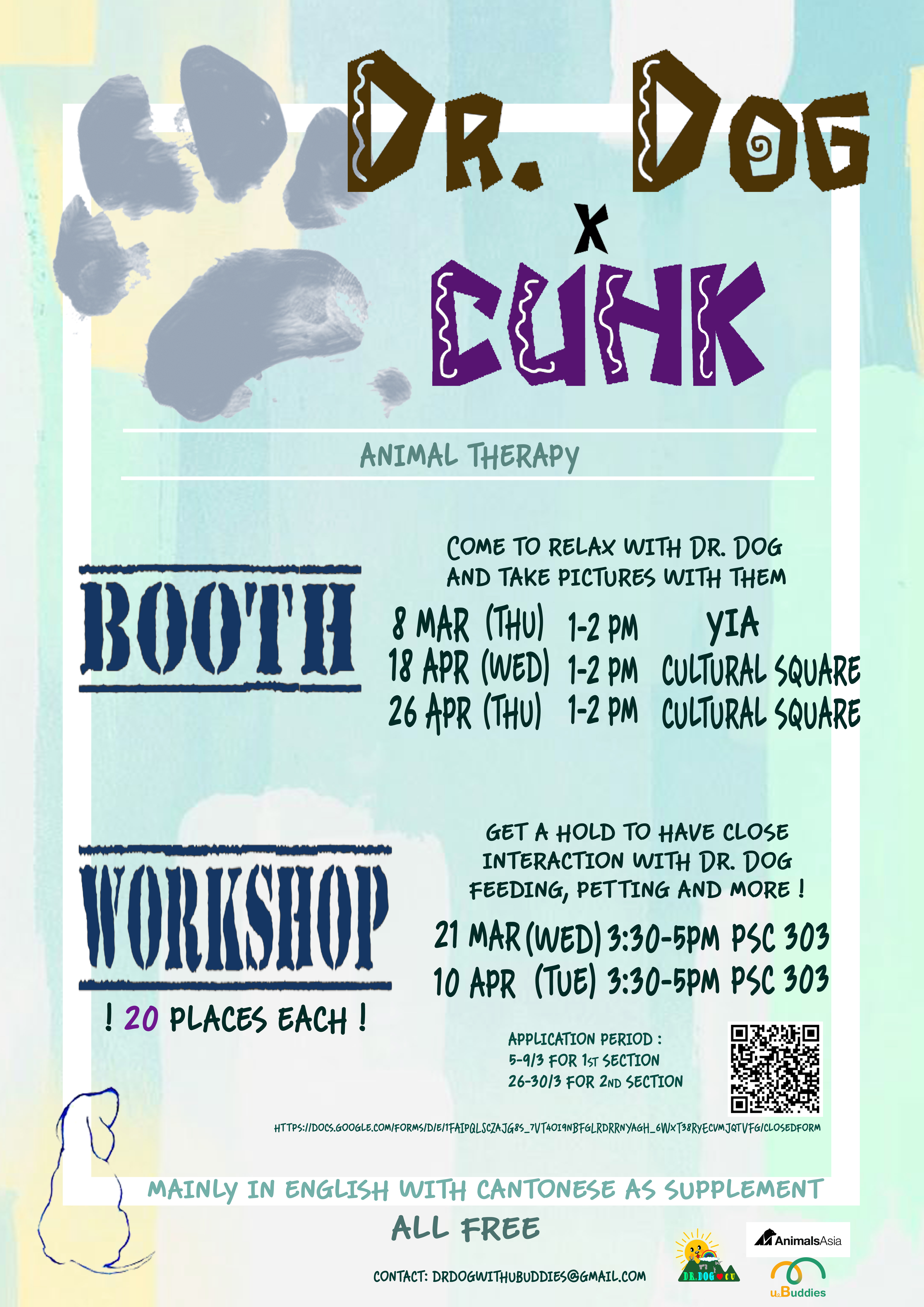 ---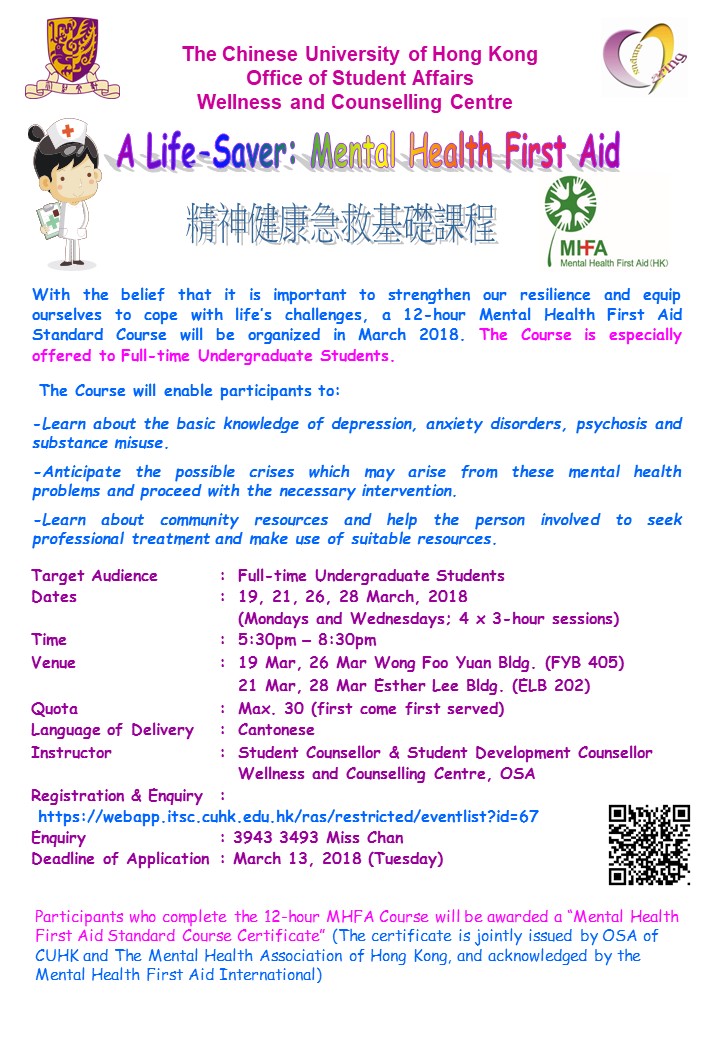 ---
Mental Wellness Promotion Day 2018 – "Embrace Yourself"
Date: 1 February, 2018
Time: 12:00 n.n. – 5:00 p.m.
Venue: Pommerenke Student Centre Plaza

Mental Wellness Promotion Day is a signature mental health promotion event of the year organized by Wellness and Counselling Centre of the Office of Student Affairs.

The main theme of the Mental Wellness Promotion Day is "Embrace Yourself", with dandelion, a versatile and resilient plant, as our mascot.

Also celebrated on the same occasion is the Handover Ceremony for 2017-18 uBuddies. The uBuddies are student peer counsellors who are committed to promote mutual support and care in student communities.

We have invited students to have musical and magic performance on stage, and hold "Embrace Yourself" booths and candy corners at the Plaza. Mental Health Talk on Facts about Counselling will be conducted by our Student Counsellor from 2:30 to 3:30p.m. Interested students please register for the workshop at
https://webapp.itsc.cuhk.edu.hk/ras/restricted/eventlist?id=67 .

We will have a series of pre-event promotion around CUHK campus from 19 January to 31 January. Watch out for our pre-event promotion and get our souvenirs!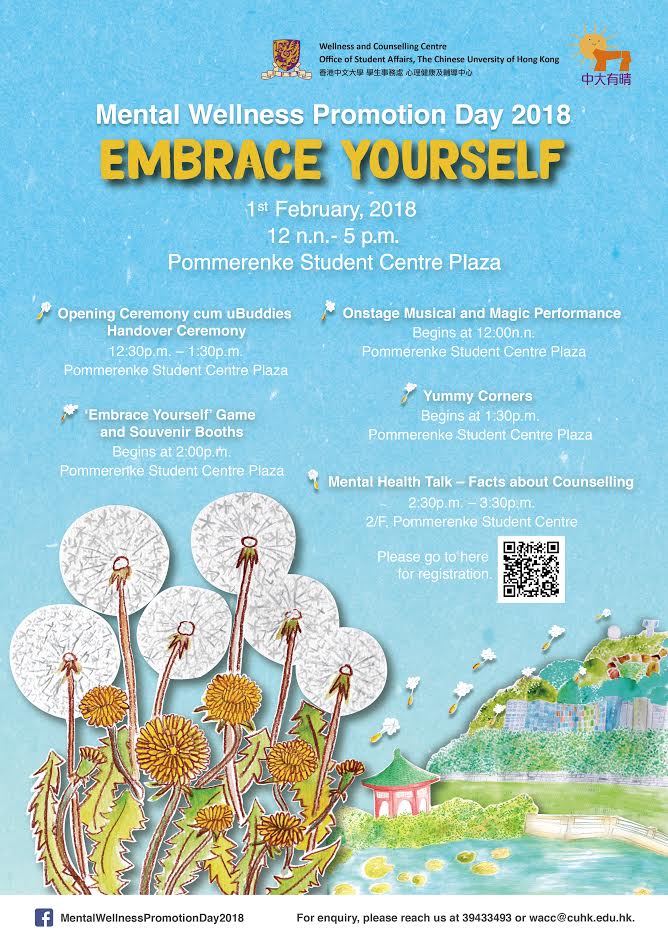 ---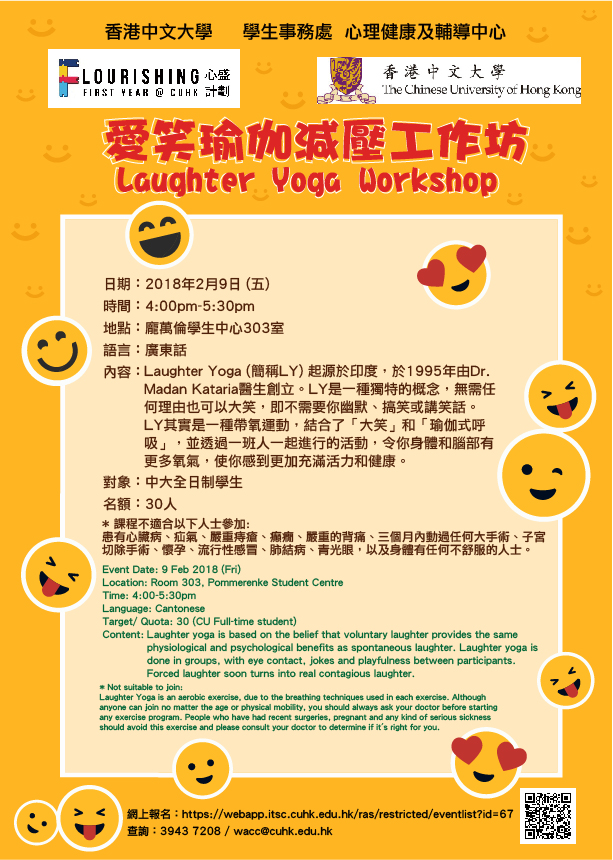 ---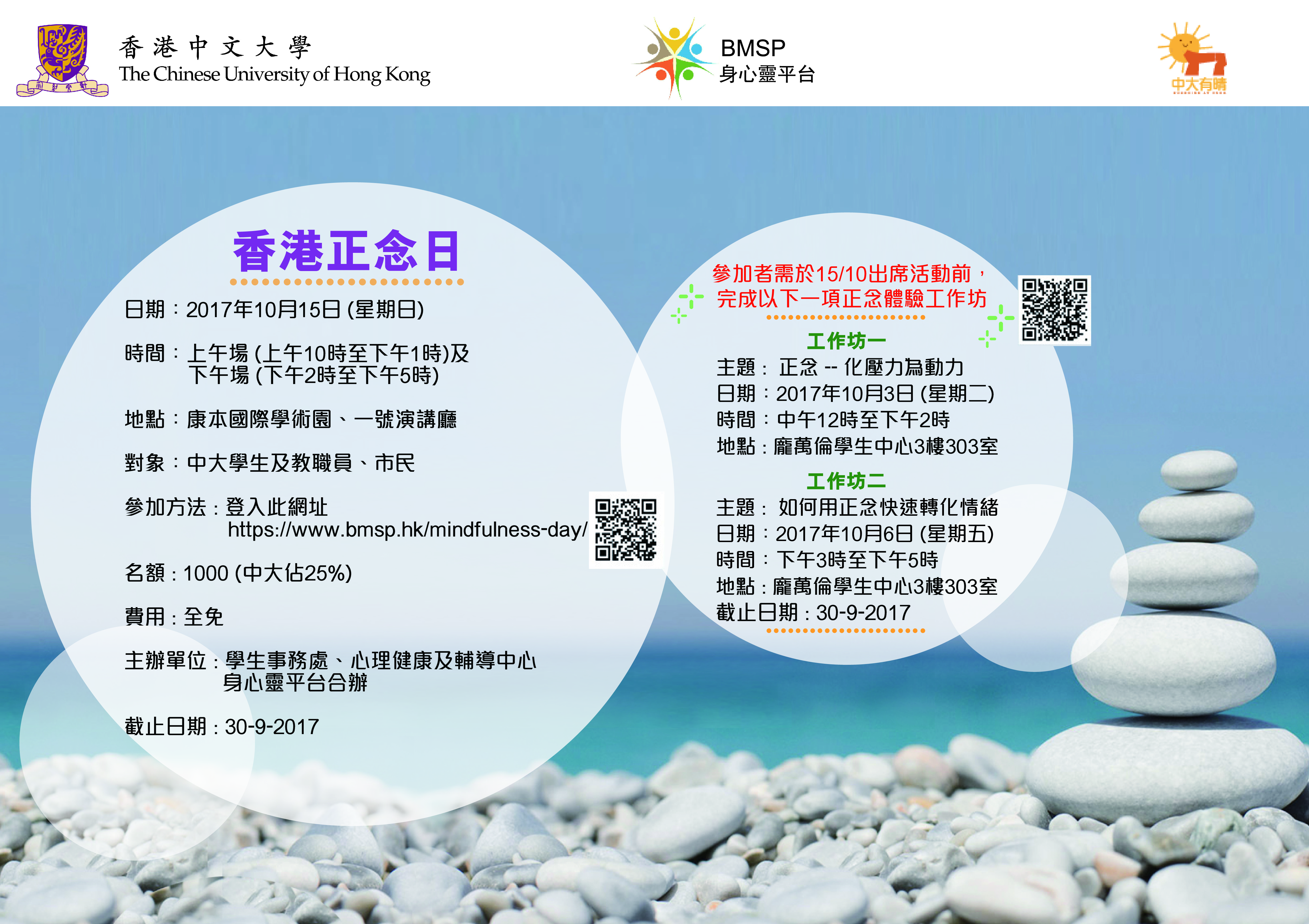 ---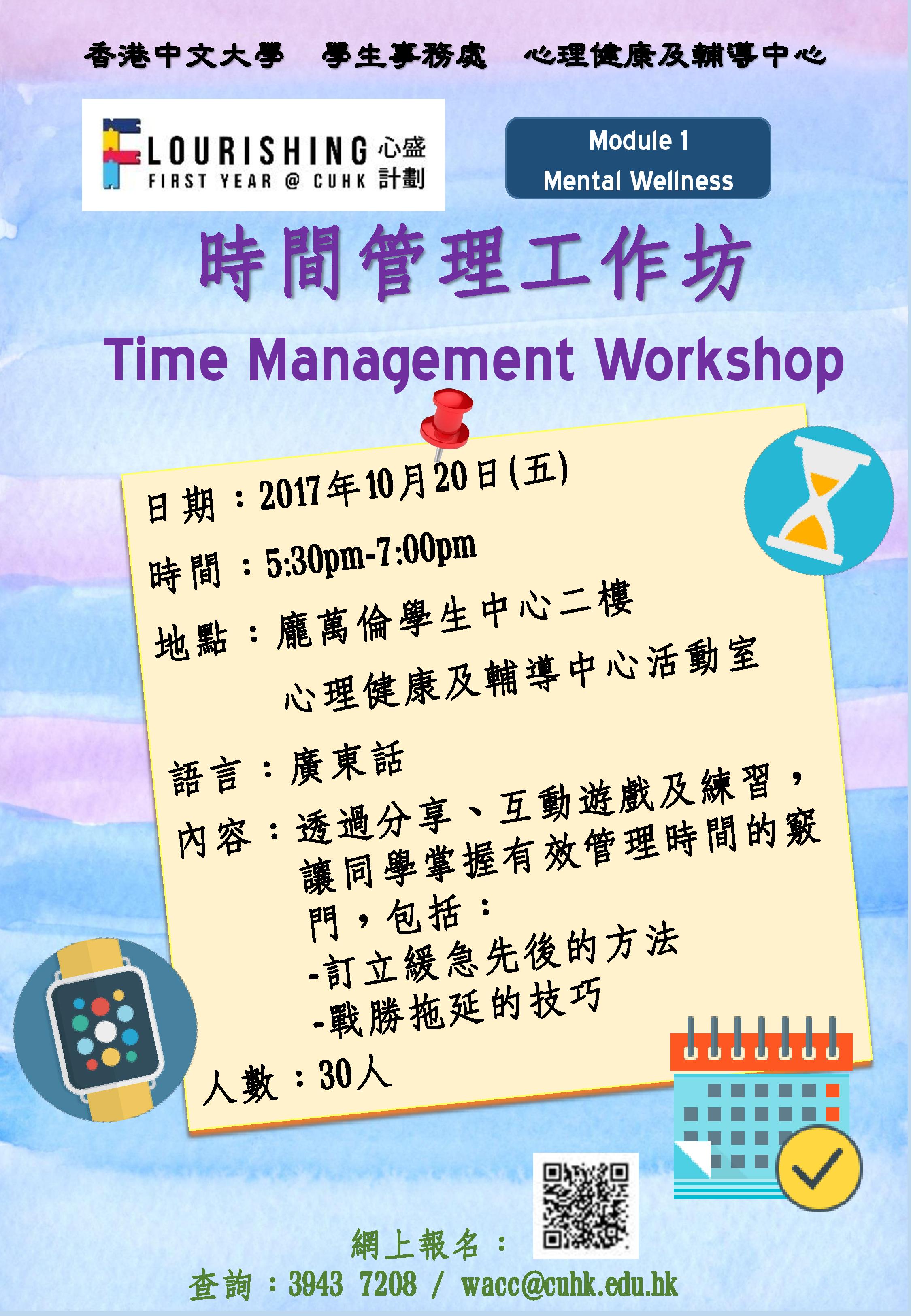 ---
World Suicide Prevention Day
To raise awareness on suicide prevention, the Wellness and Counselling Centre, Office of Student Affairs will join in to support the World Suicide Prevention Day (WSPD), a worldwide event on every September 10th promoted by the International Association for Suicide Prevention (IASP). A series of activities will be specially arranged which include:
Educational booths

promoting suicide prevention messages set up

on September 7 & 8

at Cultural Square (12nn-2pm). Students can take Polaroid photos to share their own pro-life messages and post them onto Facebook or Weibo.

Wristbands & pamphlets distribution, on September 8

at University MTR Station (outside of Exit A, 10am-12nn & 4-6pm) also at SRRH (11am-1pm). A set of specially designed wristbands printed with

WSPD's theme of the year "Take a minute, change a life"

will be delivered to students to encourage their active engagement as gatekeepers to support peers with emotional distress.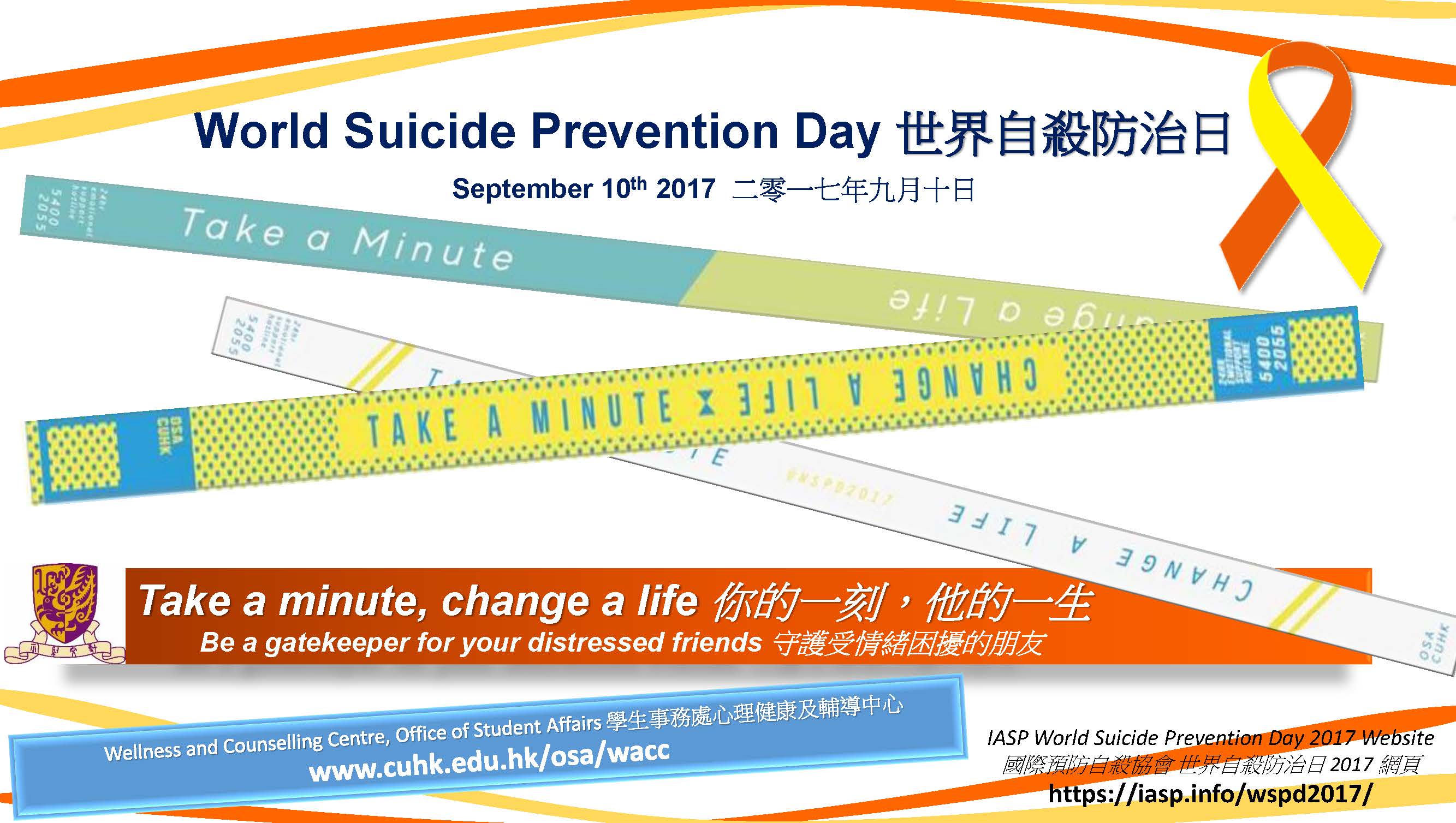 ---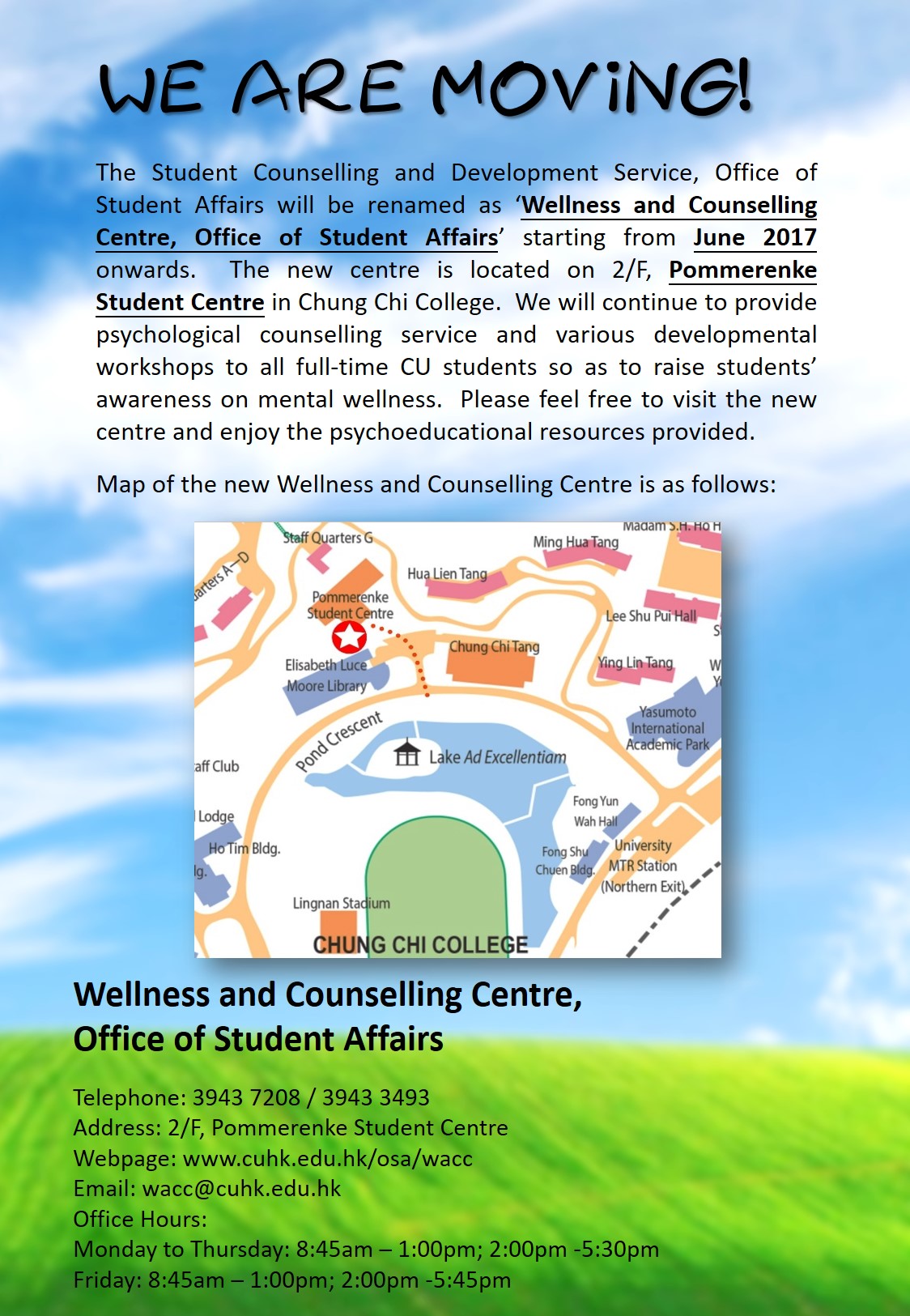 ---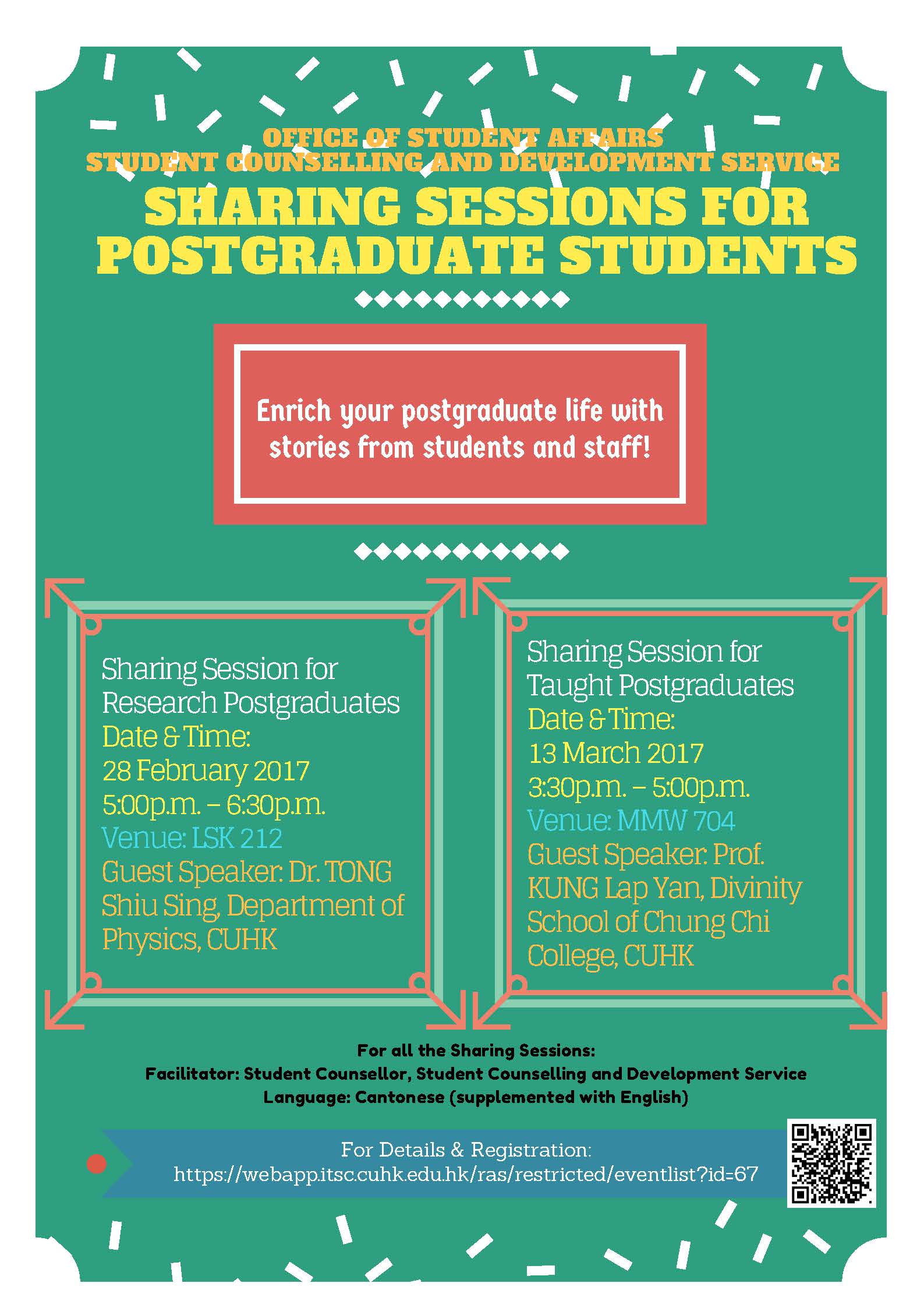 ---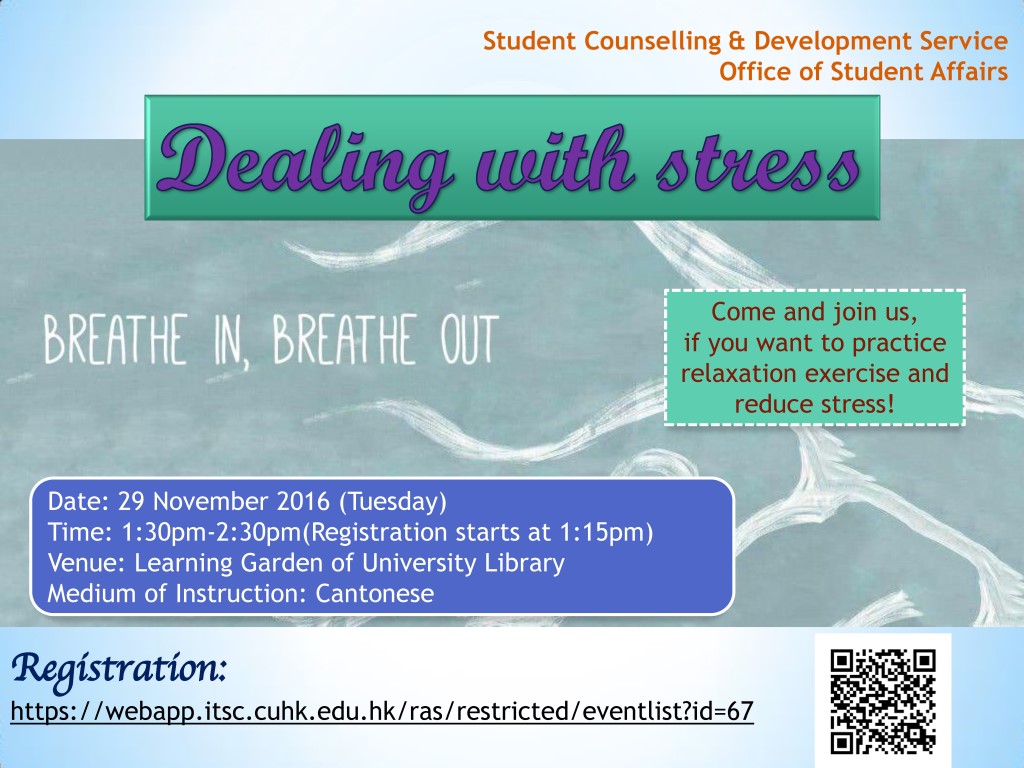 ---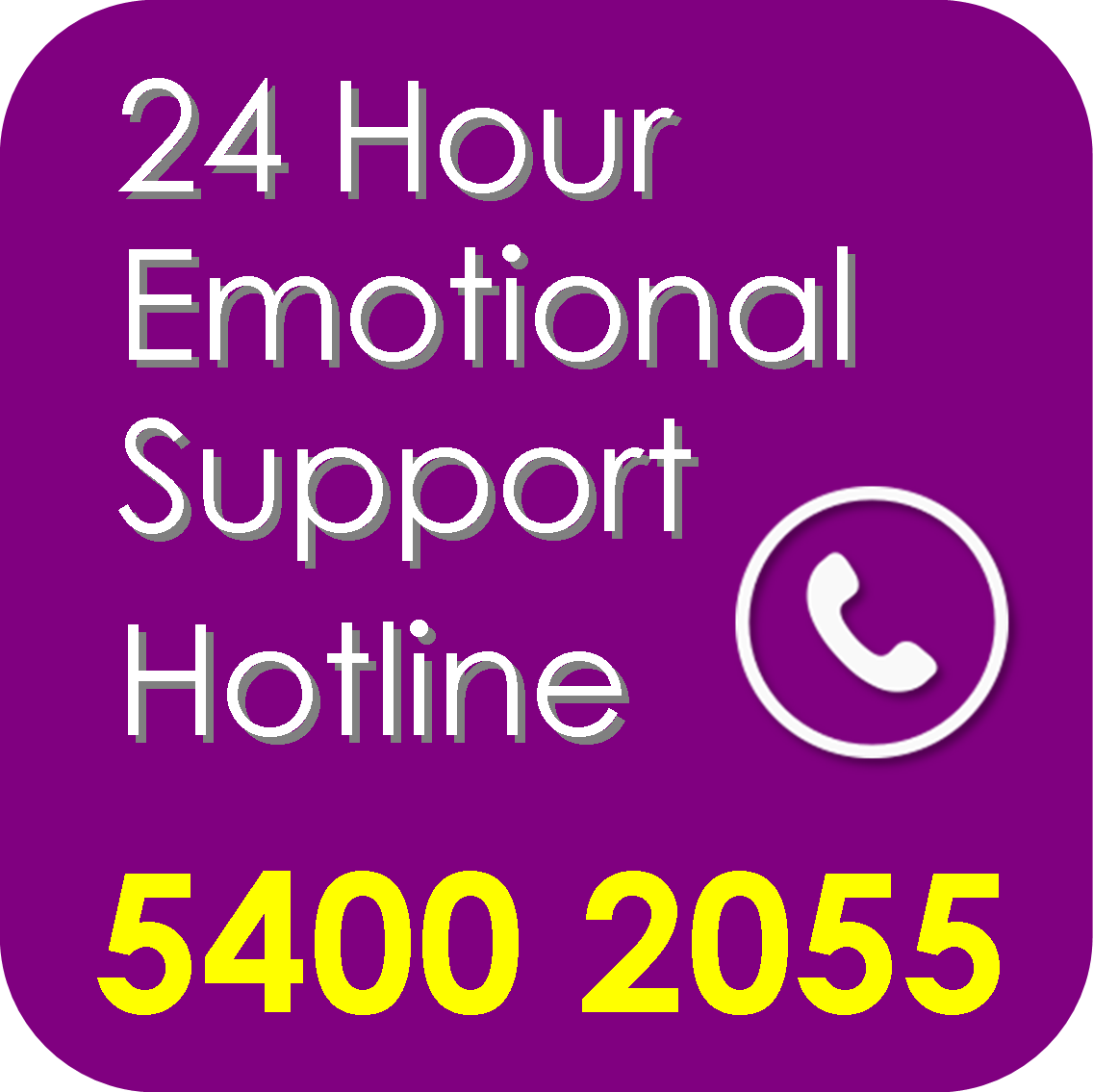 The hotline service is operated by trained counsellors from Christian Family Service Centre which offers telephone counselling and crisis interventions. Our service would follow up on the students in need of psychological counselling.
Students are welcome to contact Student Counselling and Development Service within normal office hours for psychological counselling service.
---