Caring Reminders for Postgraduates


School has started for a month, have you got on tracks with your study? Fueled for the challenges ahead? Here is a booster for you. Apart from intelligence, ability and motivation, researchers have found that hope can also attribute to academic success. (Bressler et all., 2010)
Hope
Hope influences an individual's confidence in his/her ability which may enhance future accomplishments. According to a distinguished positive psychologist Charles R. Snyder (1991), hope consists of goal, agency and pathways .In other words, a hopeful person has the will (agency) and ways (pathways) to reach the goal. Where there is a will, there is a way.
Benefits of Hope
Individuals with high hope exhibit the followings:
Capacity to overcome psychological challenges persistently (Gillham, 2000)
Better academic performance and higher graduation rate (Snyder et all., 2002)
Strengthening of academic potential (Bressler et all., 2010)
Ability to clearly conceptualize the goal, act and develop effective ways to accomplish it (Snyder et all., 2002)
Willingness to connect with other high hope individuals and build strong supportive network (Snyder et all., 2002)
Building Hope
To cultivate hope, you can adapt a goal directed thinking style known as Hopeful Thinking.
(Snyder, 2002)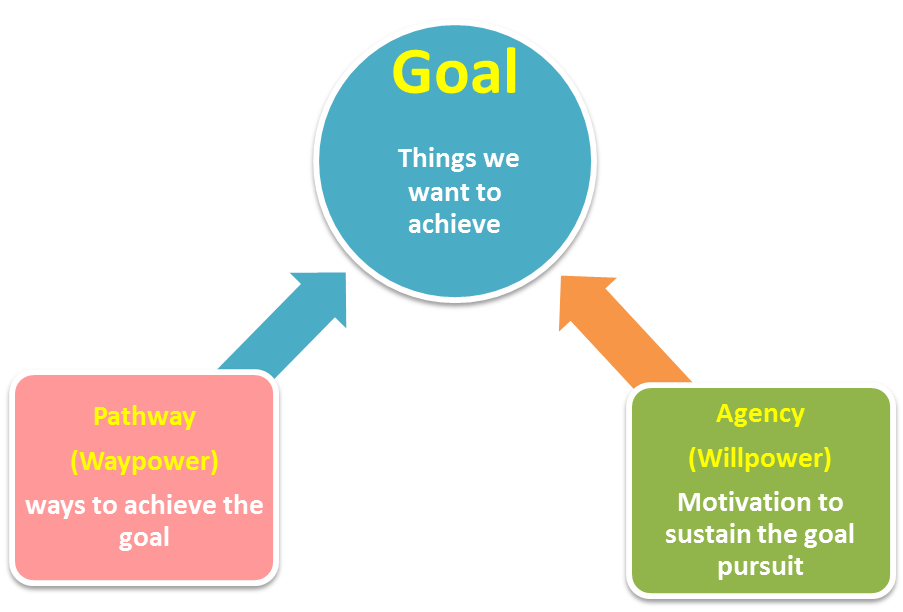 Here is how:
Goal: What is your goal for this academic term? Is it clear and achievable?
Waypower: What are the possible ways to reach this goal? Are they feasible?
Willpower: What possible obstacles you may face? As you view them as challenges, how did you successfully overcome challenges before? What can motivate you to sustain your goal? What contributes to your determination?
Interested in learning more about hope and goal setting? Join our Positive Psychology Training Mobile Apps Workshop which will be held in October 2015 and February 2016. For details, please visit our website: http://www2.osa.cuhk.edu.hk/scds/en-GB/
Reference
Bressler, Linda A; Bressler, Mark E; Bressler, Martin S. (2010). The role and relationship of hope, optimism and goal setting in achieving academic success: a study of students enrolled in online accounting courses. Academy of Educational Leadership Journal, 14(4): 37-51.
---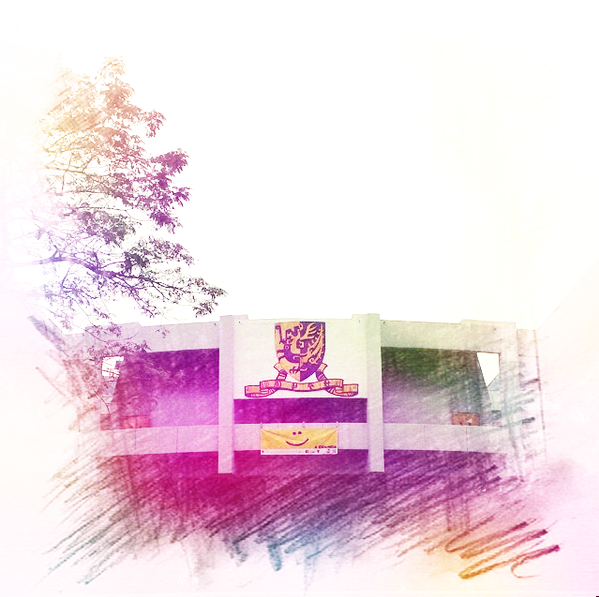 A warm welcome to all of you! We wish you joy and success in pursuing academic excellence. As you embark on this exciting and challenging learning journey, we are here to support your psychological well-being. Simply log on to our website and you can get access to self-help materials, enroll to workshops and make an appointment with our professional counsellors.
Have a fruitful time in CUHK and seize every learning opportunity!
---
10 Questions you need to ask yourself in 2015 Spring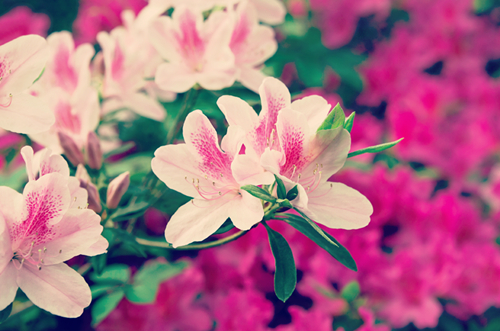 The blossomed Azalea over the campus is conveying the message:
Spring has come and April is in a distance. It's time to pause and reflect on the quarter that has passed so far in this 'new year'.
To start this quarterly report, 10 questions below have been listed for your reference.
10 questions you need to ask yourself in the spring of 2015
1. Do I use the best beauty products regularly?

No matter you are boys or girls, men or women, the best beauty products, sleep and water, are indispensable.

• Add flavor to water by putting two pieces of lemon without smashing. It helps keeping you up
• Go straight to bed if you almost pass out while studying overnight
2. In times of stress, do I resort to snacks or the 'salt water'?

Snacks may be soothing for instant but disastrous to health in the long run. Try the cure of 'salt water'. Salt water: tear, sweat or the sea is always the most effective cure for anything.

Cry whenever you feel like to. Guys, it's okay to cry, to ventilate and express your distress. Sweat brightens you up with the natural Panadol, a great antidote to stress. Out of tear and sweat? Go to the beach and enjoy the embrace of the sea.
3. Check my bag now. Do I have a mask with me?

Be vigilant to the infection of influenza. Bring a mask with you. Wear it when you are among the crowd, especially on public transportation during peak hours or at places where people next to you are coughing and sneezing. Take good care of your health.

Life is precious yet full of uncertainty. So don't take it for granted.
4. Am I in love or fear?

You can always choose love and kick off fear. Darkness never exists under the light. To cast away the darkness, all you need to do is to turn on the light.

Get your torch and take a good look of the fear. All you need is courage. At the end, you will find that things are not as fearful as you expected.

Love is a choice. All you need is the discernment to choose who and how you should love.
5. Do I always facilitate myself to take the first step or discourage 'me' with the unrealistic goals?

Be an understanding friend and good partner of yourself, but not a harsh and relentless coach. Whenever you procrastinate or resist to the planned work, don't blame yourself at once but check: i) is the goal too high to be reached? if yes, divide the grandiose goal into several small attainable tasks . Finish the task one at a time and accomplish the final goal step by step; ii) have you set aside time for yourself apart from study and school? If not, prepare treats for yourself and reserve breaks every 1-hour of study.
6. Do I allow myself to be vulnerable?

To be strong, you have to be vulnerable. Get rid of the dysfunctional thought of hiding weakness, disguising failure and holding back tears as a way of being or proving strong. Be open to your own weakness and face your limitation. That comes the real courage and self-confidence.
7. Am I striving for excellence or perfectionism?

Know the difference between the two. People striving for excellence accept mistakes and setbacks in life. They perceive failure as the motivator to work harder and attain higher. On the contrary, extreme perfectionists cannot take any mistakes. They strive to avoid imperfection unrealistically.

Being human, we are born to be imperfect in nature.
8. Are my decisions always made to feed others' needs and neglect my own?

Our ability is limited. If you are very exhausted by fulfilling others' needs, it's a signal reminding you to pause, sit back and attend to your own needs deep down. Repeatedly ignoring the self can result in emotional disturbance, procrastination and self-hatred.
9. Do I love me?

Remember you are the biggest fan of yourself in this world. Love 'me' tenderly with more understanding and less judgment. 'Love others as you love yourself'. To be a good lover, the key is to know how to love yourself first.
10. Have I taken a nice selfie with the blossomed Azalea around CU in this spring?

NO???? Pick your phone and move!!! You can't miss the spring of CU!! ><
---

Wellness Mustache
Pursuing Wellness implies being able to experience health, happiness, peace and satisfaction. How to stay physically and mentally well? Let's check out some tips below!
Reward yourself with rest and recreation when you have done good work. Strengthen your self-confidence by reflecting on positive experiences daily.
When you feel tired or stressed out, take short breaks to relax and renew your energy. Develop relaxation skills and pursue leisure activities, such as sports, music, outings, handicraft, etc.
Develop personal strengths and resilience by reading inspiring books or pursuing self-enhancing experiences. Add laughter to your life by nurturing a sense of humour.
Develop and adhere to a realistic schedule to ensure a balanced daily routine as well as successful completion of important tasks.
Don't over-demand or over-criticize yourself as it can generate negative emotions and self-doubts. Recognize your own strengths and seek opportunities to actualize your potential.
Avoid unnecessary comparison with others which can lead to envy or jealousy. Seek continuous self-improvement by learning from positive role models.
Take care of your needs; develop a balanced diet, ensure sufficient rest and exercise regularly.
Spend quality time with family and friends; it helps to consolidate relationships and release negative emotions. Get involved in community activities to expand your social network.
Let's wear the "Wellness MUSTACHE" everyday to attain a healthy and balanced lifestyle!
(Reference: 'Wellness for Postgraduates' booklet published by our section. )
---
Hope
Mid-term comes in a blink. How's everything? If you have done with the mid-terms and papers, I highly recommend you to watch the serial drama below.
YOU's (Your) Life
Release date: XX-XX-19XX
Genre: drama, comedy, romantic, action, horror, suspense
Stars: YOU, Mom, Dad, Brother/sister, Friends, Classmates, Boyfriend/Girlfriend/Secret admirer/ Ex-boyfriend/Ex-girlfriend, Teachers, Professors, Supervisor, the Government etc. Every single one who appeared/appears/will appear in the past, present and future
Runtime of each episode: 1 day (24 hours)
Duration of the series: who knows? (So treasure every episode!)
Synopsis

YOU came to this world naked and unprepared. A compulsive cry ushered YOU into a journey on this planet. Apparently, days in the cradle were monotonous but your presence and innocence shined every one nearby. Every day seems the same yet fundamentally different because YOU are changing insignificantly in every second. The change, though subtle and minimal, are continuous and crucial.
YOU grew tall and strong day by day. But illness attacked YOU from time to time. Feeling helpless and heartbreaking, Mom and Dad worried about YOU constantly. Despite the countless visits of cold, fever, flu, fall, accidents etc.,YOU are still alive.
Ups and downs permeate the plot. There's time of happiness, excitement and satisfaction, as well as sadness, disappointment and pain. Things just happen out of YOU's (Your) control. Once love was near; when passion faded, it left you pain and loneliness. Once faith drove you to the mountain top and deepest sea; when incessant suppression drained the mind, the relentless reality punched faith right on the face. Once YOU were so proud of the stability, prosperity and democracy in this hometown; when justice and conscience were shattered, resistance and resentment ignited and peace hardly sustained. Nevertheless, HOPE saved YOU. HOPE brought YOU to every brand new tomorrow where YOU would find new relationship; recover from the brokenness; uncover true love nearby; get re-energized and resume faith; witness peace after storm; and most precious of all, experience every blessing in disguise.
YOU's HOPE is the key to the continuity of this serial drama. YOU's (Your) Life vividly demonstrates how amazing life is as no one ever knows what exactly will happen in the next episode.
Hence, audience can't miss any of the episodes. Bring HOPE with you and stay tuned to the channel. The best is yet to come. See YOU tomorrow!
Hope you enjoy every episode of YOU's (Your) Life! Remember, BE HOPEFUL in spite of the uncertainty and challenges ahead. Hang on! You will see the blessing in disguise.
Here is a song for you. Dedicate especially to those who lose hope in life.
https://www.youtube.com/watch?v=XQan9L3yXjc
---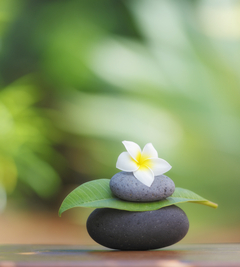 Peace
While we are entitled to exercise our free will and freedom of speech in this city, it is inevitable that we would be facing different opinions.
During the past few days, have you gone into heated debates with friends or family? Did you unfriend anyone on Facebook because of their different views? This is definitely not a pleasant experience.
However, at the same time, have you seen strangers offering you refreshment or cleaning up your garbage? I guess you can't help feeling moved and amazed.
Try to make the world a better place with love and peace. Peace could be attained through respect and understanding. Listen and respect the differences in people while pursuing your own goal and mission. Therefore, you won't lose your inner peace and relationship while fighting for peace and justice.
Written by an American theologian Reinhold Niebuhr,
O God, give us the serenity to accept what cannot be changed,
The courage to change what can be changed,
and the wisdom to know the one from the other
Reinhold Niebuhr, The Serenity Prayer
If you need any psychological counselling service or want to talk to us regarding your complicated feelings, please call 3943 7208 to make an appointment.
---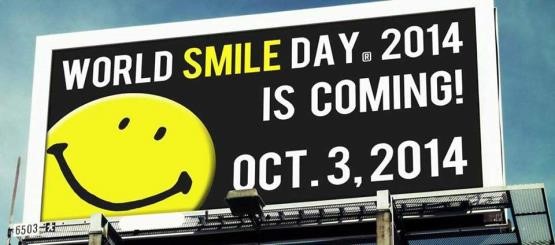 Smile your stress away!
Ever got stuck with your study? Try holding a pen horizontally between your teeth and raise your eyes a little. Then look yourself at the mirror! You find yourself smiling, right? Keep that smile on your face and read on :)
Psychological scientists Tara Kraft and Sarah Pressman of the University of Kansas found that students who were trained to smile like this were more able to cope with stressful tasks and recover from it. It also helps reduce the intensity of the body's stress response !

What's more, smiling can...

1) Improve learning and increase memory
24% of our oxygen goes to our brain. With long term smiling, an extra 10% oxygen and glucose will be produced which are necessary for learning and memory.

2) Make you feel good
Smile boosts your level of the neurotransmitter serotonin which is regarded as a contributor to feelings of well-being and happiness. It also plays a crucial role in regulating our moods, sleep, sexuality and appetite.

3) Reduce stress
Each time you smile, your body releases endorphins which is a natural pain reliever and mood lifter which can reduces your stress hormone cortisol. Plus it helps fight off illnesses and strengthen immune system.

4) Increase your productivity
Smiling can get you out from your stuck-ness in study because positive mood will produce broader attention, more creative thinking and more holistic thinking whereas negative mood produces narrowed attention and sluggish analytical thinking (Seligman 2011) .

So, head up and say "cheese"!

By the way, your pen should have dropped by now :)

#CUsmile is the campus wide mental health promotion campaign of 2014-15. Please follow our Facebook Page CUsmile for more positive tips and upcoming activities including Instagram Photography Contest, World Smile Day Charity Photo Booth (29/9, 30/9 and 3/10) and Slogan Folder Design Competition!
---
"I'm late! I'm late! For a very important date!" shouted the White Bunny.
Are you like the iconic White Bunny in Alice in Wonderland? Chasing time, rushing, getting caught in busy-ness but never quite feeling at ease with time no matter how hard you try?
On the other hand, I am sure that you won't be late for concerts of your favourite band or singer. And there is no way for you to miss your first date with your crush!
So you do have that ability to keep time. How can you keep time on other occasions as well?
Here are 3 ways which help you to become the master of your time.
Be motivated: If you perceive an activity as significant and worthwhile, you will definitely be motivated and will cherish every minute of it. Understanding why you choose to engage in activities gives you a sense of purpose and enhances your commitment. Your time table can become a means to reach your goals rather than a suffocating to-do list.


Be selective: Be aware of how you really spend your time. What occupies most of your time? Is it how you really want your time to be spent? Try to record the amount of time you spend on texting and social networking apps, you will probably be shocked! Set your priorities and the appropriate amount of time for different meaningful activities according to your needs and goals.


Be mindful: Make time for yourself to get recharged every day. By spending quiet moments with yourself, you can reduce stress and avoid getting caught by the busy-ness of daily life. Try walking mindfully, doing yoga, jogging or practising Chinese calligraphy. As long as the activity allows you time and space to stop and be mindful of your present state, it would refresh and invigorate you as well as improve your efficiency.

Time isn't an enemy but your partner for reaching your life goals. Use it or lose it!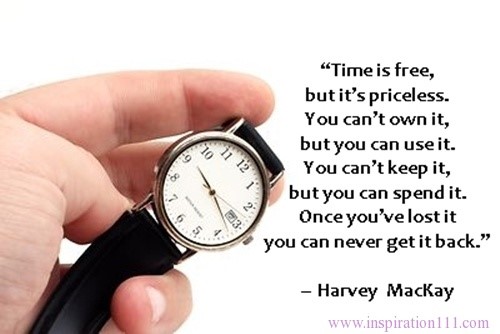 ---
Dear Postgraduate Students,


Wealth management is always our concern. When we find out a deficit in our bank account or a drop in savings, apart from limiting expenses, it is normal for us to look for ways to increase income. However, when we are managing our energy account, besides getting rid of negative emotion, have you ever thought of ways to enhance positive energy?


Now, spend 2 minutes to think of a reward for yourself after this ever-so-hectic day. It doesn't have to be costly. It can be simply taking a walk along the harbour front, enjoying the cool breeze and stunning scenery of Victoria Harbor, window shopping at the mall nearby, buying a delightful dessert or having dinner with a good friend ... Have you made up your mind? If yes, write it down on a memo slip, post it up on your desk or somewhere visible and remind yourself: the effort you paid today deserves your reward.


Although the reward may not bring sustainable happiness, a slight increase of positive emotion from 0 to 1 can be very crucial. A moment of delight can instantly ease your tension and energize your body as well as equip you with more positive energy to cope with the challenges ahead.


Don't underestimate the impact of this 'reward'! Small changes can break a monotonous daily routine, and fill your days with drive and joy. Apart from rewarding yourself, sleep well, eat well, exercise regularly and enjoy leisure activities. These are all conducive to the increase of positive energy.


As long as you find effective means of 'increasing income' and 'ensuring adequate savings', your energy account can definitely maintain a healthy balance despite occasional withdrawals when dealing with life's stressors.


So starting from today, keep a healthy energy account and seize every opportunity that makes you happy!

Student Counselling & Development Service, Office of Student Affairs
---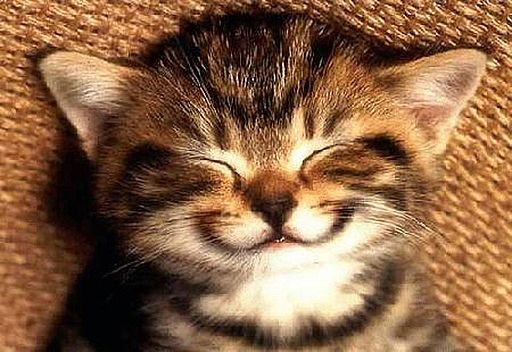 Dear postgraduate students,

Do you remember the last time you had a good laugh?

Statistics show that four-year-old children laugh once every four minutes on the average, which is about 360 times a day! However, adults only laugh an average of fifteen times a day. What a huge contrast! As we grow up and face mounting hassles and pressures in life, we seem to laugh less and have a weakened sense of humor. Although seemingly trivial, a good laugh can actually help brighten your day as well as enhance your health and quality of life.

According to Dr. William Fry of Stanford University, one minute of laughing is equal to ten minutes of rowing. Laughter facilitates an increase in heart rate and blood pressure, improves blood circulation, and stretches muscles all over the body. These physiological effects are similar to those produced by aerobic exercise, which means that laughing is like a mild workout! In fact, Dr. Fry describes laughter as 'inner jogging'.

Moreover, when we laugh, a chemical called endorphin is released in our brain which makes us feel more relaxed and euphoric. Thus, having a good laugh seems to be a simple and efficient way to relax and release tension, especially for those of you who feel stressed out by your studies, placement, research or personal concerns!

Laughing is an enjoyable process and may help us express and reinforce positive feelings like joy, content and humor. We can laugh more by watching comedies or enjoying good times with friends. Starting from today, enjoy the gift of laughter and smile, giggle, laugh aloud as often and as much as you can.

Lastly, let us share a lovely video with you to start you gigging: http://www.youtube.com/watch?v=RP4abiHdQpc

Student Counselling & Development Service,
Office of Student Affairs
---
Relaxation Through Sensory Focusing

Dear postgraduate students,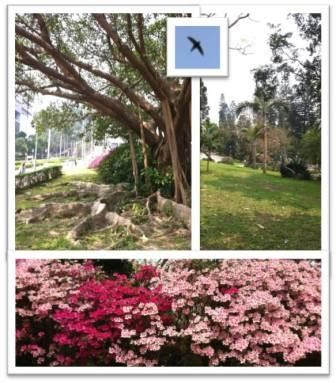 Now is the season for writing up essays and preparing examinations for many of you. During this period, we encourage you to relax momentarily as you travel around campus by enjoying your beautiful surroundings and focusing on the following sensory experiences:

1. See: Use your eyes to appreciate the majestic hills, the blossoming flowers, the dancing butterflies in the bushes, the twinkling stars in the evening sky...;

2. Hear: Use your ears to hear the chirping of swallows near the University library, the buzzing evening concerto of the cicadas, the pitter-patter of rain drops, the hourly chimes from the Chapel's Bell Tower...;

3. Smell: Use your nose to smell the fragrant blossoms, the fresh air in early morning, the cleansed grass after rain...;

4. Touch: Use your sense of touch to feel the warmth of the sun, the soothing breeze of Spring, the sturdy strength of well-preserved trees.

Seize the chance to revitalize and recharge yourself by savoring the abundant and wonderful gifts from Nature in our tranquil yet vibrant campus!

Student Counselling & Development Service,
Office of Student Affairs
---
A Sharing on 'Wellbeing Tips' from Our Caring Campus


Dear postgraduate students,

Warm greetings to you all. Over half of the second semester has passed, most of you may have been feeling stressed out or tired from preparing the mid-term exams or doing research. During this hectic period, we would like to share with you some wellbeing tips that can help to relieve stress, boost your mood and nourish yourself:


Enjoy the warm sun. Sunshine could brighten up your day by making you feel revitalized, comfortable and relaxed.


Listen to music. Relaxing music could make you feel calm and peaceful. You may like to listen to some light music or favourite music of your choice during spare time, and also choose a nice melody as the wake up tune for your alarm clock.


Exercise regularly. Exercise strengthens your body and makes you feel good and think more positively. Choose an exercise that you enjoy, such as walking, jogging, playing ball games, and having a gym workout.


Maintain balanced diet. Take your breakfast, lunch and dinner regularly. There are 'Top 10 Foods' which may help relieve stress. They include deep sea fish, banana, grapefruit, whole-wheat bread, garlic, pumpkin, milk, walnuts, green vegetable, and tea.


Stay in touch with your friends. Social support is important for maintaining good physical and mental health. Get in touch with friends you find comfortable to talk to and be with. Take the initiative in maintaining regular contact with them. This allows you to alleviate stress and lift your mood.


Count your daily blessings. Appreciating and feeling grateful for the things you have or are able to enjoy in daily life could make you feel more happy and contented. For example, these things can include having the opportunity to attend graduate school, having good friends and mentors, and enjoying good health; even the seemingly trivial things count - from the air you breathe to the food you eat.

Let us share some relaxing songs with you:
http://www.youtube.com/watch?v=Pp59_3TJVYQ (In the Enchanted Garden – Kevin Kern)
http://www.youtube.com/watch?v=9hUy9ePyo6Q (Sound of Silence- Simon & Garfunkel)
http://www.youtube.com/watch?v=i9rvBJrY6v8 (寂寞考- 盧廣仲)

Student Counselling & Development Service,
Office of Student Affairs
---
Dear postgraduate students,


The Power of Positive Emotions


As the Chinese New Year is approaching, the Student Counselling and Development Service of the Office of Student Affairs would like to take this opportunity to send our best wishes to you.


For those who are enrolled in taught postgraduate programmes, you have completed the first semester and started the second. You may need to adapt to the requirements and standards of new courses. You may also need to adjust to a new daily routine and schedule. For those pursuing research studies, you will need to continue to manage your own research work as well as other official responsibilities.


Regardless of whether you are a taught or research student, we believe that you must be experiencing varying degrees of stress.


According to Fredrickson (2001), positive emotions can enhance one's creativity, motivation and social intelligence, as well as promote physical health and resilience.


How can we retain positive emotions while we are facing stress? Here are some tips that you may wish to try:


recall pleasant and positive experiences


watch comedies


read motivating and inspiring passages or articles


interact with positive and optimistic people


laugh more often


give thanks to those who care for or support you

We hereby wish you an enjoyable and re-energizing holiday as you experience the many benefits brought by positive emotions.

Student Counselling & Development Service,
Office of Student Affairs